Game Day 3 - China slogs past India in tough battle
Wednesday, August 17 2011 @ 06:35 pm ACST
Contributed by: Troy Thompson
Views: 2,849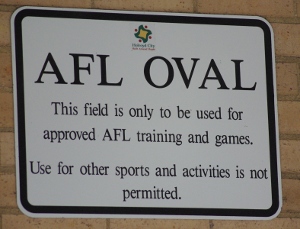 India took on China today at Holroyd Oval, Gipps Road Sports Complex, at 12pm on Wednesday 17th August.

In light rain the game started with India getting on the scoreboard first kicking 2.2 to China's 1.4 in the first quarter. Both sides went hard at the ball, but India's small men were able to link up with chains of handball and come out in front. Jay Himat (#7) and Vishnu Rishe (#17) were the goalkickers for the Tigers while Zhou Min (#10) scored China's only major, inaccurate kicking hurting their cause. India's Rakesh Ghosh (#4) looked dangerous around the packs, while Ayush Gupta (#24) won many contests. Keeping track of the players was proving hard with quite a few changes to jumper numbers for the Indian squad.
Update Wed 8pm AEST: Good news as Indian player Merv Nathaniel has been given the all clear and left hospital after full brain and spinal scans.
Update Thursday: Chinese play Lu Hao was also injured and underwent surgery for a broken ankle. There was also a suspected AC (Timor Leste) and a broken jaw (Tonga) earlier in the tournament - there will always be injuries and the players are going hard at it, but there seems to be an unlucky run at the moment.
In the second quarter China booted 2.3 to no score, Wang Ji Hao (#12) for China slotted one major and Jamie Pi, well known for his AFL TV commentary in Chinese, kicked another. Xu Qing Hong (#17), Ku Hao (#19) and Pi Jia Ming (#6) dominated around the ball as the Red Demons swung momentum. Late in the quarter Merv Joseph Nathaniel for India had his arms pinned in a tackle over the boundary line and lay motionless for a period. Trainers from both sides rushed to his aid, and later it was decided to take him by ambulance to hospital.

In the 3rd quarter India's running game got going, especially Rishie (#7) using good handball but in the slippery conditions they failed to convert. A steadying goal to Ding Guan Qun (#5) for China gave a 3/4 lead 4.9 to 2.2 and in wet conditions and would be hard to overhaul.

The ambulance arrived and the match stopped for an extended period as the Indian player was treated by the boundary (presumably a decision was made to play it safe and not move him).

The match was actually very even to 3/4 time with only China's stronger marking in the forward line giving them a scoreboard dominance, despite wet conditions. Brett Kirk addressed the Indian team at the last break and pointed out the sacrifice their team mate had made and coming from so far away they had to give their all in the last term.

The final quarter got underway when the ambulance left the ground with Team Manager Ash Nugent riding up front. China were able to get out forward of the ball, giving them a target after earlier in the game crowding too much. Wang Ji Hao (#12) goaled as a result, but generally it was a tough battle between halfback and halfforward. China's Lu Hao (#19) was also injured which with no time on reduced the actual game time further. The match concluded with India unfortunately unable to add to their quarter time score after such a promising start, perhaps a little dispirited after the injury to their team mate.

Early report from the hospital from India's Team Manager is that Nathaniel is talking okay but likely suffering from concussion.


China
Goalkickers: Ji Hao 2, Zhang Wei 1, Xu Jian 1, Pi Jia Ming 1
Best Players: Gao Bo Ran, Gao Yang, Dong Hao, Chen Yong Fei, Zhang Hao, Ding Guan Qun

India
Goalkickers: Vishnu Rishie 1, Jay Himat 1
Best Players: Jay Himat, Vishnu Rishie, Prakash Kailasanathan, Donovan Drozario, Dan Flory, Ayush Gupta