Bold predictions at Women's Launch
Tuesday, August 16 2011 @ 01:35 pm ACST
Contributed by: Stephen Alomes
Views: 2,705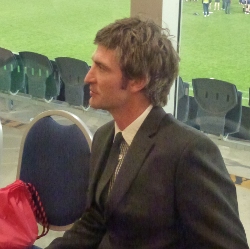 The future of footy is bright. It might also be international, multicultural and female.

At the second day of the International Cup at Blacktown International Sportspark, AFL Game Development Manager David Matthews remarked that now there were 70,000 footy players around the world, and that the next International Cup, IC14, might have 30 teams, rather than the 18 men's and five women's teams at IC11.

AFL Commissioner Sam Mostyn, speaking at the official launch of the Women's International Cup was also confident about the international future, expressing her aspiration that 'the fifth International Cup will double the number of women's teams here'.
She also remarked that she heard a number of men in the stands, when watching the exciting football played when the Irish Banshees played Canada's Northern Lights, remark on how 'we're enjoying that brand of football'.
In Australia, she remarked, women's football was 'the fastest growing participation segment in footy today'.

Fatima Kouruche, a Sydney multicultural development enthusiast, remarked on the fact that Australian Football was the only game with a systematic multicultural development program and officers in the field.
Brett Kirk, former Sydney Swans captain, and a hard man of footy (as well as, unusually, a Buddhist) declared that 'I feel very privileged to be part of it', the International Cup.
He reflected that when he was 'busy playing the game at the AFL level'…'I was pretty blinkered' about the rise of the game around the world.
Travelling around the world as an international ambassador for Australian Football 'I was amazed at the passion' and the commitment of the players and the volunteer organisers. Reflecting on the game's development overseas and on the teams which had come to the International Cup he saluted 'all the players and volunteers who love the game'.
Significantly, in terms of a footy future which is female and multicultural and international, not just old Australia and male, he reflected on his wife Hayley's experience of being 'recruited' to play a women's match in Canada, 'she felt the camaraderie and team spirit which is different to other sports'. As he concluded 'Footy is an inclusive game. It is for everyone'.
Jan Cooper, the Perth-based AFL Women's Development Officer, was understandably pleased with the success already of the Women's IC11, and gave the credit for the inclusion to David Matthews.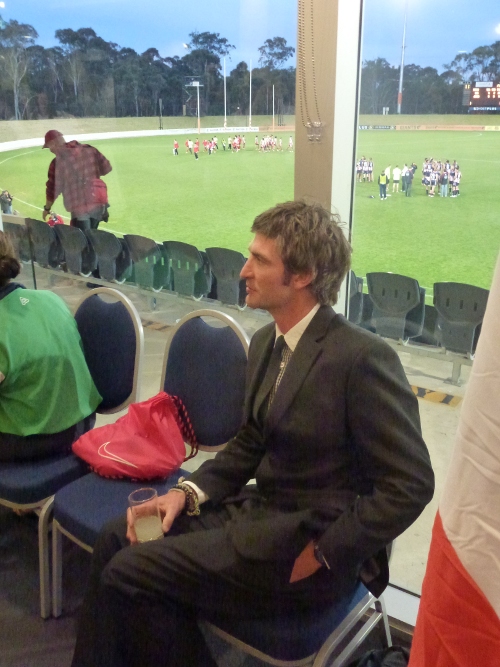 Reflective Footballer: Brett Kirk before speaking at the Women's IC11 Launch