IC11 Women's Launch Function
Tuesday, August 16 2011 @ 01:00 pm ACST
Contributed by: Tobietta Rhyman
Views: 2,069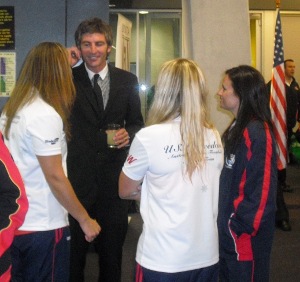 After afternoon of football, the players of the IC11 Women's Division were invited to the Women's Launch in the function room overlooking Oval 1. Against a backdrop of the USA Revolution playing against the Japanese Samurai in the men's division, the women gathered together, many meeting each other for the first time, some with jubilant faces from a hard fought win, others reflective of experiences gained and lessons learnt on the history making opening day of the first ever Women's International Cup.

After the Canadian Northern Lights and their opponents, the triumphant Irish Banshees, had joined the group, fresh from an exciting game of two of women's football's top teams, the launch function began with an introduction from the Indigenous leader of western Sydney, welcoming the teams to their country and lands, and wishing them all the best for both their stay in Sydney and their hopes for the International Cup.
This was followed by a welcome from the Blacktown Councilor, Kathie Collins, who talked about the importance of the event for the local community, and a great introduction to the event and to women's football from the AFL's Female Football Development Manager, Jan Cooper, explaining some of the struggles women's football has had in its history, from the very first match in the inaugural Victorian WFL season, to the inclusion of all Australian states at this year's Women's National Championships, and talked of her joy of women's football going one step further, beyond Australia's borders, with the development of international women's football clubs and leagues, culminating in the first Women's International Cup.

After her speech, Cooper introduced a local figure, Fatima Kourouche, who has helped empower local females and Muslim communities by introducing women's only swimming lessons and various other inspiring projects, gave the room a presentation on her work and wished the women well in their own ventures to spread Australian Football to women around the world.

Finally, nothing at the International Cup would be complete without the contributions of Sydney Swans legend and AFL Ambassador, Brett Kirk. As well as talking about his impressions of the female footballers he met on his epic travels, he also talked of his pride in watching his wife play in her very first game of football, after she was invited to join one of the local teams whilst on their travels.
We'll also have another perspective on this enjoyable evening from Stephen Alomes who is always on the look out for the cultural changes in football.

The women's teams will next play against each other on Wednesday the 17th August.