Game Day 1 - Group 5 reports - Nauru, Japan and Fiji in tightest group
Sunday, August 14 2011 @ 05:26 pm ACST
Contributed by: Brett Northey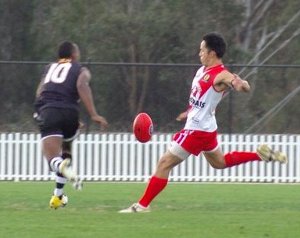 Group 5 turned out to be the toughest on the Opening Day of the 4th AFL International Cup, with 5th seed Nauru not completely dominating and a thriller between Japan and Fiji.
The Japan versus Fiji match was tipped as a possible close one and didn't disappoint, with the new boys on the block Fiji, leading until the dying stages. The day was darkening and it was looking that way on the scoreboard for Japan until the Samurai managed to avoid a loss of pride and scrape into Division One.
For the Fijians they now look to be a very dangerous side in Division Two and should be aiming to win it.
Nauru won reasonably well in both matches but didn't look as impressive as some other top countries and unless they were foxing will need to improve to challenge for a top four spot.
2pm Nauru vs Japan - report by Troy Thompson

Nauru did their reputation no harm in their first game today at BISS2 oval with a 17 point win over Japan. In a fast paced display of football from both teams, the physical might of the Nauruans came out on top.

Both teams showed great passing skill at breakneck speeds that was only separated by the strong marking up forward in the first half with goals to Dagiro and Dannang. Nauru could have extended that lead if not for poor kicking. Late in the half Kuno kicked Japans first goal for the tournament.

Taking an 11 point lead into the second half Nauru and Japan fiercely battled the packs and swiftly moved the ball out in handball chains but again Nauru's strength up forward would dominate. Cook, Teabuge, Yoshi Harris and Moses all goaled for Nauru and Japanese goals came late from Sato and Saito. Japanese captain Sakaki battled hard but could not get his team up for a win.
| | | |
| --- | --- | --- |
| | 1/2 | Final |
| Japan | 1.0 (6) | 3.1 (19) |
| Nauru | 2.5 (17) | 6.6 (42) |
Goals:
Dagiaro, Dannang, Cook, Yoshi Harris, Moses, Teabuge
Best Players:
Dagiaro, Temaki, Waidabu, Uepa, Moses
Goals:
Kuno, Sato, Saito,
Best Players:
Japan

Sato, Sakaki, Ohashi, Ono, Kuno, Saito
12pm Nauru vs Fiji - report by Tobie Rhyman
This was Fiji Tribe's first game as a team and going into the warm up, the predominant backwards passing looked more like rugby than football. Before the game, the Tribe displayed their fearsome war dance, but it wasn't fazing the Nauru Chiefs who played clean football, the players clearly having mastered the basics, but with the exception of an awesome spinning banana from Jonny Dagiaro which curved from a behind into a goal, they lacked the additional flair and style of the top teams. The disciplined Nauru team kicked, hand passed and switched the ball exactly when required, and their attack initially sliced through the Tribe like a knife. But the enthusiastic, hard talking and faced paced Fijians bravely held on and managed to force a point out of the dominant Chiefs.

In the second half, after a bit of restructuring and a lot of learning from Nauru's style of play, the Tribe came back out looking like a different team, more structured and copying Nauru's ball punches in marking contests. The team focused on defense, everyone except the full forward pushing back into defense and denying the persistent Nauru team an opportunity. Tired from their previous game, the Chiefs started to succumb to the pressure and kicked a couple of behinds before a mistake in midfield allowed the Tribe to push forward and they got their first goal. Encouraged by this, they surged forwards and the game started to even up. The fast learning Fijians started running the ball up, using hand passing and short kicks to cut through the smaller and slower Chiefs, and got another goal, but in the end it wasn't enough to claw back a result from the dominant Nauru Chiefs.
| | | |
| --- | --- | --- |
| | 1/2 | Final |
| Nauru | 5.3 (33) | 6.6 (42) |
| Fiji | 0.1 (1) | 2.3 (15) |
Nauru
Goalkickers: Namaduk, Dagiaro 2, Harris 3
Best Players: Dagiaro, Batsiua, Waidabu, Temaki, Teabuge, Hubert
Fiji
Goalkickers: Pauil 2
Best Players: Rokotuitai, Pauli, Salavou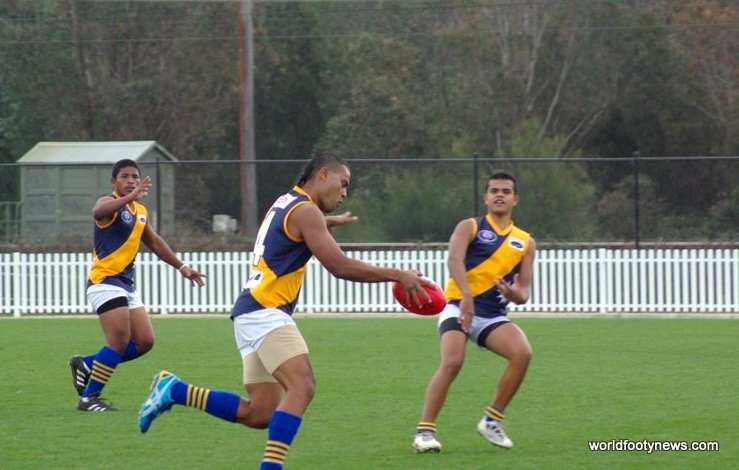 4pm Japan vs Fiji
- report by Troy Thompson

Japan defeated Fiji in a nailbiter at BISS 2 oval by just two points after being well down halfway through the second half.

With now cloudy skies in Greater Western Sydney and the temperature dropping a few degrees the footy was just warming up. Both sides looked evenly matched in size and pace in the first few minutes and this was to be so in the first half. Saito and Sato kicking a goal each for Japan and Navuso and Bolenaivalu for Fiji equalling the score. Fiji took a one point lead and the momentum into half time.

In the second half it looked like Fiji would run away with it, Bolenaivalu dominating the ruck and around the ground. Fiji added goals through Pauli and Turagabeci and Japan looked destined for the competitions Division 2.

But the Japanese regrouped and started to hit their targets up forward in Sato and Ikeda. And it was Ikeda who goalled twice in the final minutes to put the Samurai back in front by a point and then adding another point as the crowd rode every bump and tackle.
Ultimately the Japanese showed their long experience in the game to get the win but make no mistake Fiji's footy future is bright and will only continue to improve. Look out Division Two.

| | | |
| --- | --- | --- |
| | 1/2 | Final |
| Japan | 2.3 (15) | 4.6 (30) |
| Fiji | 2.4 (16) | 4.4 (28) |
Japan
Goalkickers: Ikeda 2, Saito 1, Sato 1
Best Players: Nakamura, Sato, Ikeda, Tanaka, Sakaki, Komura
Fiji
Goalkickers: Pauli 1,Turagabeci 1, Navuso 1,Bolenaivalu 1
Best Players: Navuso, Bolenaivalu Kacivi, Pauli, Koroi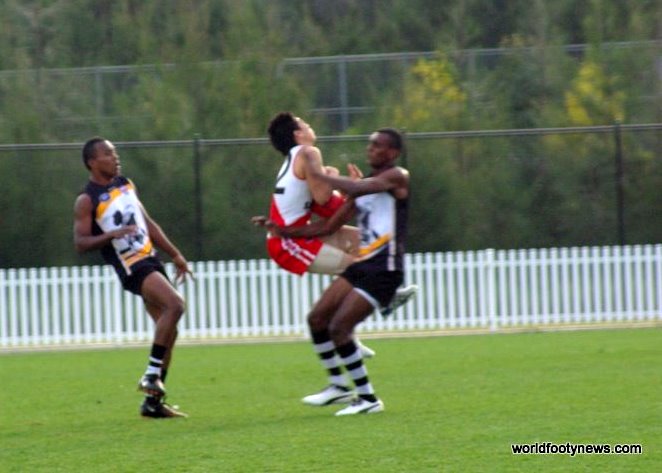 Comments (0)
---
World Footy News
http://www.worldfootynews.com/article.php/20110814175631483