Game Day 1 - Group 2 reports - NZ dominant, Sweden improved, India struggle
Sunday, August 14 2011 @ 03:16 pm ACST
Contributed by: Brett Northey
Views: 2,519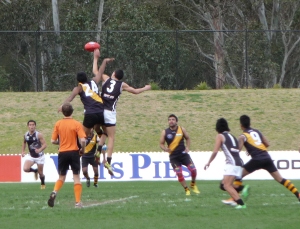 The second set of Group matches to be played at BISS1 on the Opening Day of IC11 featured one time champs and number 2 seed New Zealand, up against Sweden (bronze medallist at the 2010 European Championships) and a re-born India.
It was a credit to a lot of hard work behind the scenes by volunteers just for India to be in Sydney, and with not a lot of on field activity in recent times not a great deal was expected, especially against accomplished opponents.
Perhaps of most interest was to see whether Sweden have improved enough to push the Kiwis, and whether the New Zealanders would present the same style of structured game as past Cups.
2pm NZ vs Sweden - report by Brett Northey

By early afternoon the clouds were starting to wander across the Sun and the temperature began to drop. The three nations in Group 4 lined up for their national anthems and New Zealand performed the Haka, always a point of interest for the crowd (sadly not more than 100 people, a continuing low point in what is otherwise a great celebration of footy).
The New Zealand Hawks (formerly the Falcons) were first to goal through Andrew Howison (#30), but clearly Sweden had come to play. In fact through regular European tournaments the Elks get to play more international footy than NZ and that possibly showed. Clearly the Hawks were a bit more athletic but had to battle for goals. A very nice passage saw Jared Court (#34) take a strong mark on 50m and stab it hard and low to Brendan Clark (#32) on the lead who took the hot pass cleanly in the hands, before goaling from the set shot.
A goal to Lukas Swart (#31) from a tight angle followed from a pass from Sam Dickson (#12) and at half time it was the hot favourites 3.2 (20) to Sweden 0.0 (0) but quite an arm-wrestle.
The second half was similar and it was interesting to note that the Kiwis used a bit less of the "out the back doot" handpass around packs than in past Cups. They also took the player on more, perhaps as a younger generation comes through, and perhaps more of a Polynesian influence.
Captain Andrew Crighton (#19) was very smooth through traffic but the Swedes held firm for long periods, although they couldn't really get the ball inside 50m. Eventually nuggety Matthew Van Wijk (#28) sealed the game with two impressive goals, one a right foot snap of just one step from 45m and one whilst in the grip of a tackle.

| | | |
| --- | --- | --- |
| | 1/2 | Final |
| NZ | 3.2 (20) | 6.5 (35) |
| Sweden | 0.0 (0) | 0.0 (0) |
NZ
Goal Kickers: B. Clark 2, M. Van Wuik 2, L. Swart , A. Howison
Best Players: V. Hartman, A. Howison, A. Crighton, A. Sucu, L. Kneebone, L. Swart
Sweden
Best Players: C. Fager, J. Lantz, A. Svensson, M. Sundin, D. Koinberg, D. Verngren
3pm NZ vs India - report by Michael Christiansen
India, resplendent in the yellow and black of the Richmond Tigers started full of spirit and perhaps even surprised a few by their competitiveness around the packs early. But as is the story of the day for the underdogs, getting inside 50 is just the first part of the equation.
Twice India cleared the centre pushing forward and twice New Zealand rebounded and goaled, to Chris Mundell (#10) and Lukas Swart (#31), after which it became a procession. And by half time with the scoreboard reading 9.0 (54) to zero, the Indian match committee was perhaps thinking that a second half challenge game of cricket might hold more promise. In fact spare a thought for India, whose coach only arrives on Wednesday!
New Zealand's marking forwards dominated the air, and had deadly straight goal kicking from players such as Swart, Clark, Mundell and Dickson making India pay on every occasion. In perfect slightly overcast conditions the Hawks were just too big, too strong and too classy.

In the second half India increased their share of possession but were unable to string solid possession long enough to threaten the goals. Defenders battled hard, but, a lack of crisp ball handling saw India turn over possession. New Zealand ran out comfortable victors 15.2 (92) to India scoreless. However, for India, the priority after the match was take what they could from the football lesson just handed to them and to prepare for the Sweden clash.

| | | |
| --- | --- | --- |
| | 1/2 | Final |
| NZ | 9.0 (54) | 15.4 (94) |
| India | 0.0 (0) | 0.0 (0) |

NZ
Goal Kickers:
L. Swart 4, S. Dickson 4, C. Mundell 3, B. Clark 2, D. Rattenbury , T. Lavery
Best Players:
A. Howison, V. Hartman, R. Panui-Leth, S. Dickson, L. Swart, A. Harris
India
Best Players: V. Rishi, J. Himat, A. Gupta, D. Andrew Drozario, S. Paravatham Lakshmaiya, K. Flory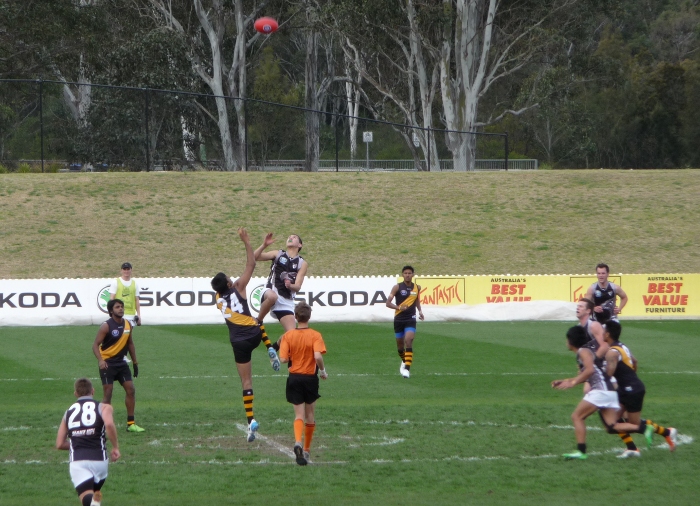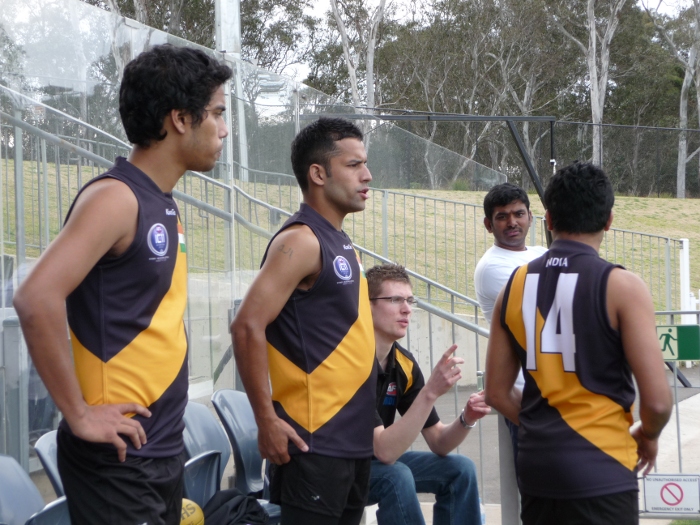 4pm Sweden vs India - report by Brett Northey
The temperature continued to drop and maybe that suited Sweden as they quickly took India to task. A scything run by skipper Johan Lantz (#4) was very classy but a poor finish gave the ball back to India. In fact it was the Tigers who scored first, with a good effort from Jay Himat (#7) touched on the line. Sweden went forward and a 25m penalty brought David Vergren (#51) in range but the shot hit the post. (For those that get the Footy Record at the grounds note that #51 is worn by the player listed as #7, and #37 was listed as #20).
Vergren (#51) soon made amends goaling, before surprisingly India surged forward, only to give away a free in the goal square, but certainly far more reason to be encouraged. Eric Sahlin (#3) goaled for the Elks and then Dan Koinberg (#30) looked to pass off, didn't seem to want to take the kick as he ran towards goal, before finally slotting it very nicely on the left.
At the half it was Sweden 3.3 (21) to a gallant India 0.1 (1).
It was a similar second half although the Indians were fatiguing. The lights were on and starting to take effect as Sweden's #10 handballed nicely to Andreas Svensson (#1) who cruised inside 50m and slotted a great goal from 40m. Sweden's Leo Nillson (#20 but we had the player as #37) bulldozed his way through a pack to also snap truly under pressure, and it was clear there would be no fairytale today for India.
Goals to Tobias Stahl (#6) and another to Koinberg (#30) sealed the deal. Sweden will look to move up the ladder at IC11, whilst India will be glad to get through relatively unscathed and can now concentrate on scoring some goals against more level opposition in Division Two.
| | | |
| --- | --- | --- |
| | 1/2 | Final |
| Sweden | 3.3 (21) | 7.7 (49) |
| India | 0.1 (1) | 0.1 (1) |
Sweden
Goal Kickers: D. Koinberg 2, L. Nilsson , T. Stahl , D. Verngren , A. Svensson , E. Sahlin
Best Players: E. Sahlin, M. Sundin, D. Verngren, D. Koinberg, J. Lantz, E. Aberg
India
Best Players: not available