Game Day 1 - Group 1 reports - PNG cruise, Tonga impress, France brave
Saturday, August 13 2011 @ 10:36 pm ACST
Contributed by: Brett Northey
Views: 4,605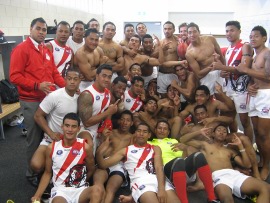 The 2011 AFL International Cup started Saturday morning at Blacktown International Sportspark Sydney (BISS) with number one seed Papua New Guinea taking on new boys Tonga in Group A, joined in their three way series by another new footy nation in France.
Proceedings got underway slightly earlier as both PNG and Tonga went quickly to their positions after their respective war dances. The Tongan boys looked impressive with height and powerful physiques, but everyone knew the Mosquitoes would be fast and too good. Greater interest would lie in how the French performed against the islanders.
11am PNG vs Tonga - report by Brett Northey
In reasonably warm and sunny conditions Papua New Guinea opened their campaign with a solid win over the Tonga Tigers. PNG started a little slowly with Tonga's Simote Taunga running on to a loose ball and kicking the opening goal of the tournament. But from there the Mozzies steadied and started using their running handball style to good effect, leading at half time 3.4 (22) to 1.1 (7).
The sunshine was warm but the Tongans felt the heat in the second half, with their defence under siege. Defenders resorted to bombing the ball out of their defensive 50m and PNG peppered the goals. 2008 star Amua Pirika cruised around half forward looking very laconic and dangerous, but didn't have his kicking boots on. The Mozzies appeared to be kicking further than 2008, using the ball a bit more efficiently, and ultimately pulled away to win 6.8 (44) to 1.1 (7). A brave first up effort from Tonga and they will give some of the middle ranked sides a run for their money.
| | | |
| --- | --- | --- |
| | 1/2 | Final |
| PNG | 3.4 (22) | 6.8 (48) |
| Tonga | 1.1 (7) | 1.1 (7) |
PNG
Goal Kickers: E. Wartovo 2, A. Pinda 2, B. Beno
Best Players: T. Carbry, E. Wartovo, J. Ikupu, S. Susuve, G. Aki, A. Pirika
Tonga
Goal Kickers: S. Taunga
Best Players: H. Loni , P. Mahina, T. Fihaki, S. Nau, F. Jnr Ta''ai, H. Fisitalia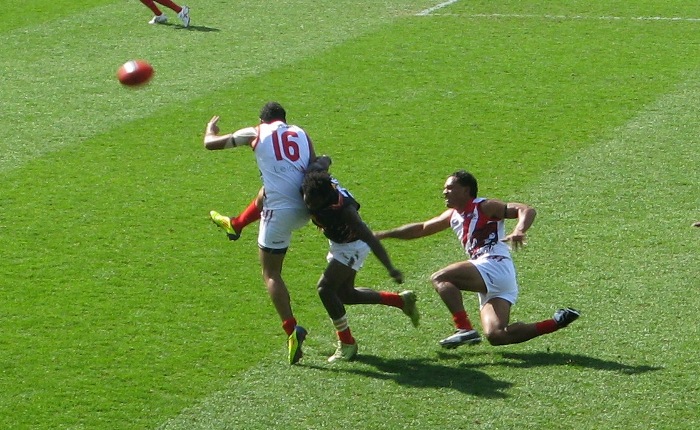 12pm PNG vs France - report by Michael Christiansen
The second match at BISS1 was always going to be a major mismatch with the top seed versus 18th. The coin toss was performed by the French Cultural Attaché Jean-Jacques Garnier.
In fine sunny conditions without a hint of a breeze in down town Blacktown, the scene was set for the French 'Les Coqs' to present themselves to the broader International Footy community with their debut on
Australian soil.
In a massive ask though, they were up against reigning IC champions Papua New Guinea in what will be the toughest task the French are likely to face in this tournament.
PNG opened the scoring, not unsurprisingly, kicking to the Eastern Road (or Southern end).
A little wasteful initially, with behinds to skipper Wartovo and Beno; it took some class from Peter Labi to split the big sticks.
The next PNG forward thrust was thwarted to the cheers of the French supporters as their centre half back, Patacq, claimed a mark and cleared the defensive zone.
Shortly after, Pirika provided a Blair Campbell moment with a glorious banana from the right forward pocket to extend the early lead.
The French were momentarily inspired by a strong tackle from Gregoire Patacq, earning a free on the half back boundary in front of the cheering French bench.
At half time, PNG 5.6 (36) leading France yet to score.
The second half saw PNG wasteful again early, but, inspired by clean forward finishing from Gold Coast TAC/VFL experienced Susuve, PNG were again able to translate dominance onto the scoreboard.
The French to their credit persisted well, and were able to regularly get first hands on the ball from the centre ruck, which may not bode so well for PNG against stronger teams.
Against lesser opposition, the French are sure to translate some of those clearances and forward 50 penetrations into scores.
But ultimately
, PNG 10.10 (70) ran out comfortable victors over the scoreless French.
| | | |
| --- | --- | --- |
| | 1/2 | Final |
| PNG | 5.6 (36) | 10.10 (70) |
| France | 0.0 (0) | 0.0 (0) |
PNG
Goal Kickers: S. Susuve 4, B. Beno 2, P. Lambi , A. Pirika , J. Nemete , T. Gavuri
Best Players: T. Gavuri, S. Susuve, B. Sovare, G. Simon, P. Lambi, E. Wartovo
France
Best Players:
C. Jan-Mahamad, M. Trivdic, P. Thomas Finnsson, L. Besnard, P. Ivorra, G. Patacq
1pm France vs Tonga - report by Brett Northey
The Tongan Tigers broke through for their first International Cup victory, defeating a spirited French side. The Tigers were ferocious at the ball but France's tall timber such as Mickael Trividic (#31) gave them first use of the ball in the centre. Several forward thrusts by France went unrewarded and it was Tonga who started scoring goals. Sione Tupou (#28) was using his size to good advantage, busting tackles and having shots on goal. Tongan captain Peni Mahina (#16), famously cousin to Israel Falou and captain of the Tigers, was eye catching as he spun out of a pack, ran and carried, to set up one of Tonga's first half goals.
At half time it was Tonga 3.2 (20) and no score to France.
The second half started with a bit of niggle, and it was France's James-Robert Theis (#11) who made history. A good solid chest mark was followed by the first goal for France in International Cup history. But Tonga answered quickly, and then a beautiful goal followed to Kafoa Tuaefe (#17) after he weaved through traffic to kick from the goalsquare. In the end it was Tonga 7.6 (48) to France 1.0 (6), the first ever full International Cup victory for Tonga.

All up a very solid debut by Tonga who have some athletic players but against the quality of PNG were often caught out misjudging the ball in flight, and obviously need more experience. The French have a lot of work to do but they showed they are up for the task. They attacked the ball hard and gave as good as they got. They look set to be difficult opponent for other teams as they now move into Division Two, having finished on the bottom of their group.
| | | |
| --- | --- | --- |
| | 1/2 | Final |
| Tonga | 3.2 (20) | 7.6 (48) |
| France | 0.0 (0) | 1.1 (7) |

Tonga
Goal Kickers: S. Taunga , S. Nau , P. Mahina , K. Tuaefe , S. Tupou , U. Kivalu , A. Epenisa
Best Players: P. Mahina, K. Tuaefe, H. Fisitalia, U. Kivalu, T. Fihaki, S. Nau

France
Goal Kickers: James-Robert Theis
Best Players: not available