IC11 Preview - IC11 Squad - Which way will the Northwind blow?
Thursday, August 11 2011 @ 06:19 pm ACST
Contributed by: Brett Northey
Views: 2,588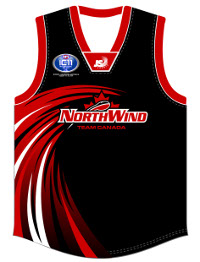 Canada's Northwind are ranked 6th for IC11 and could be expected to rise given their previous Cup finishes of 9th (2002), 7th (2005) and 6th (2008). No doubt the coaching staff will be hoping they can crack open the top 4 and gain a semi-final birth, but the top nations won't give up their spots easily.
The Country and Australian Football

One of the world's largest countries by area, Canada in some ways shares a lot in common with Australia. Both are wide open lands but with much of them not particularly hospitable and relatively small populations, which are mostly of European descent as well as a significant indigenous population. Both have strong friendship with the USA and are heavily influenced by it, but also have a healthy scepticism towards that country in some respects and enjoy their differences.
Australian Football got its North American start in Canada in 1989 with the Mississauga Mustangs and Toronto Panthers, which lead to the formation of the Canadian Australian Football Association (now called AFL Canada) and a very strong league in the province of Ontario. Across on the west coast Vancouver (British Columbia) got started in 2001, which has ultimately lead to a successful junior program (yielding Northwind stars such as full forward Scott Fleming) and more senior clubs. Further provinces (Alberta and Quebec) and the capital Ottawa have since begun programs giving the game an increasingly broad base.
Strengths and Weaknesses

The Northwind has a core from the strong Ontario league, one of the best outside of Australia, so week and week out quality footy prepares those players well. They are also infused with a growing number of players who grew up playing the game (though not as many as we might have expected), and will field one of the tallest teams at IC11. So if it's dry weather they will look to exploit their size but if the ball spends a lot of the time on the ground, as it often does in high pressure games, a strength could become a weakness.
Players to Watch

Unfortunately Canada was the only team we didn't manage to track down for more information. One player we're looking forward to seeing is Scott Fleming. A product of the North Delta Junior AFL in western Canada, he impressed at IC08 and could be a key player if he has continued to improve.
Form Guide and Bottom Line

The Northwind are seeded 6th by the AFL but ranked 12th in the world by WFN, largely due to numerous losses to the United States weighing them down in our automatic system.
Canada rarely play internationals other than against their southern neighbours so it's difficult to know how they have progressed. With former juniors starting to flow into the national squad and steady growth around the country we'd expect the standard has increased. But the top few nations have probably accelerated more, so Canada may find themselves improving against the middle ranks but still unable to penetrate the top 4. A finish around 6th would be a good result.