Transport and weather for Sydney start
Tuesday, August 09 2011 @ 10:00 pm ACST
Contributed by: Brett Northey
Views: 2,787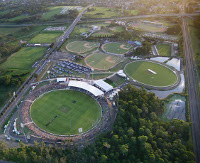 IC11 action starts this Saturday 13th August at Blacktown International Sportspark Sydney.
The best place to find out the weather in Australia is the Bureau of Meteorology and in particular for the Blacktown area the closest forecast will be that for Paramatta. At time of writing the prediction for this Saturday is "7C overnight and 18C maximum during the day, a shower or two. Partly cloudy. Isolated showers. Light winds".
Read on for some basic transport information.
Of course entering something like Blacktown International Sportspark Sydney in Google maps will show you the area.
The Blacktown City Council advises that:
We recommend that Doonside Railway Station is the closest to the grounds and is approximately a 15 minute walk to our AFL/Cricket Centre. Unfortunately there are no buses which run regularly to the venue. Parking is available at the AFL/Cricket Centre and is accessible via Eastern Road, Rooty Hill. I've attached our Park map also.