IC11 Preview – China Red Demons Return
Saturday, July 30 2011 @ 10:00 pm ACST
Contributed by: Andrew Sawitsch
Views: 3,698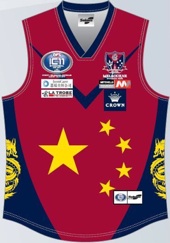 China returns for their second consecutive International Cup and are this time keen to put in a better placing than 15th. With some experienced campaigners and an increased number of Australian sourced players, they will definitely look a much more polished and improved outfit from 2008.
The Country and Australian Football
The People's Republic of China (PRC) is the most populous state in the world, with over 1.3 billion citizens. The PRC exercises jurisdiction over 22 provinces, five autonomous regions, four directly administered municipalities (Tianjin, Shanghai, Chongqing and the capital city- Beijing), as well as two special administrative regions (SARs) – Hong Kong and Macau
Since an AFL development officer was first based in China in 2006, it has been a big few years for Australian Football in the region. There has been consolidation of clubs in the major cities and the AFL has expanded promotion of the game in local schools and universities. The success and impressive crowd turnout of the Melbourne vs. Brisbane exhibition match in Shanghai last year during the World Expo further exposed the potential for expanding the game into China.
The national team debuted in 2008. Since then they played a number of friendly matches against the Beijing Bombers, a total of five International Cup matches and last year an U21s squad played against Japan. The highlight in their short history has been their win over India in their final IC08 match.
Strengths and Weaknesses
The key difference between this team and the team that played in the 2008 tournament is the added experience and maturity. In 2008, few of the Chinese squad had even played an 18 a side game prior to the International Cup. This time, there are seven players who were part of IC08, and seven who have experience playing football in Australia. This should even out the team well and bolster up their attack.
China will be challenged for depth, as they have a pretty small playing squad of just 23. It was expected that at least 20 players would fly out, but fundraising has been a challenge and a number of Shanghai based players could not arrange leave. As such, there are some pretty fresh inexperienced players in the team who will be exposed a bit against some of the stronger teams, which is why Division 2 will be a good fit for them.
Team
The majority of players have been drawn from the Beijing Bombers' and their recruitment arrangement via Beijing Sport University. Through this they have been training and playing matches regularly in Beijing. The sole Shanghai rep is Wan Jun "Jerry" Yu, who has become a familiar face at the Shanghai Tigers and is excited about his first trip to Australia.
Boosting up the team, and helping promote the team further in the Australian-Chinese community, is a number of players recruited from Australia. Pi Jia Ming and his club, the Southern Dragons in Melbourne's Southern Football League, have recruited a number of new Chinese players who are eligible to play in IC11. Ming Yang and Ding Guan Qun, from La Trobe and Adelaide Universities respectively, are Chinese students living in Australia who are very excited about pulling on their national jumper for the first time and their experience will be valuable.
Coaching the Chinese team at IC11 is Andrew Loechiel. Andrew previously coached junior football at Norwood in South Australia and more recently, while working in Shanghai, has assisted with developing local players. Last year he coached the North Shanghai Crows in the Shanghai 9s league and the Chinese national team in their match against Japan.
Mic Mittasch, a veteran of the Chinese football scene and who's company, Mitchells, are sponsoring the team once again, has been working tirelessly on all the off field issues as team manager of the team.
Players to Watch
Pi Jia Ming A star of their 2008 campaign and his long torpedo punts out of defence are likely to be on display again. Moved to Australia as a 13 year old.
Zhao Liu Tao Tallest player in the squad and his tap work will be key to the Demons getting the ball in their forward 50 regularly.
Gao Yang Very new to Australian Football. A student at Beijing Sport University, has impressed at the Beijing Bombers this season, taking some impressive pack marks.
Bottom Line
The Chinese team are themselves aware that they go into their group matches against South Africa and Denmark on the opening day as massive underdogs. Both teams beat China quite comfortably last time. They will use day one as a warm up and give it all they can but realistically, they are focused on a competitive effort in Division 2 & their aim is to make the Division 2 Grand Final. Performances in the Sydney games will be very important in achieving this. It's a fantastic effort having them in Australia once again and their determination along with some added experience could surprise opposition.
The China Red Demons wish to thank their Premier Sponsors, Mitchells Equipment & Crown Melbourne, and all their supporters listed below in helping them take the field at this year's International Cup.
Gold Dragon Sponsors:
Red Sponsors: