VFL club Williamstown to host Swedish Elks at IC11
Tuesday, July 26 2011 @ 05:52 pm ACST
Contributed by: Aaron Richard
Views: 1,767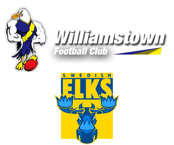 The AFL Sweden and Williamstown Football Club today announced that Williamstown will host the Swedish Elks during the International Cup 2011 in August.
The hosting partnership will entail joint training sessions, access to training facilities, experience exchange sessions and a farewell get together. Exact dates of the events are still under discussion due to the participation of Williamstown in the Foxtel Cup final, but both parties are excited about the opportunity.
"We are proud to have Williamstown Football Club as our host club who is one of the oldest footy clubs and shares the same colours," says AFL Sweden president Jörg Pareigis. Head coach of the Elks Daniel McClaer continues, "The possibility of joint training sessions with the Williamstown squad would be a great opportunity for our players to see how footy really is trained and played."
Football & Development Manager Chris Dixon at Williamstown FC explains "We were very keen to be apart of such a great event in the International Cup and it's great to be able to help out an International Side in Sweden. We're looking forward to assisting where possible and helping the Swedish Elks as they strive for International Glory."
Both parties hope that this partnership will continue much longer than the stay of the Swedish Elks in Melbourne and that in future players, coaches or staff of Williamstown FC will have the opportunity to visit Sweden for an international exchange experience.
The Williamstown Football Club plays in the VFL, the highest level of footy in Victoria below the AFL, and are aligned with their suburban neighbours the Western Bulldogs. Formed in 1864, Williamstown is one of the oldest footy clubs in Australia. The Seagulls recently made it into the final of the Foxtel Cup, to be played on August 6 in Patersons Stadium, Perth.
AFL Sweden is the official governing body of Australian Football in Sweden. Representatives of the nine clubs in Sweden form the national team, the Swedish Elks. The Elks are currently bronze medalist winner at the European Championship in 2011 and will play their opening matches in the IC11 on August 13 in Blacktown, Sydney.