IC11 Preview - Japan Samurais aiming to step up to the plate
Tuesday, July 26 2011 @ 11:28 pm ACST
Contributed by: Andrew Sawitsch
Views: 3,065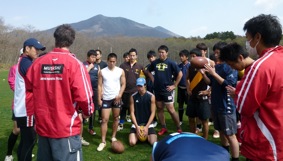 Japan has finalised its squad for IC11 and bring a diverse mix of experience to Australia, with the hope of stepping up to being recognised as a top 4 team.
Japan has become a regular appearance at all international footy events, from the early days of the Arafura Games, to having attended every International Cup tournament since 2002. Their performances have shown a steady improvement and their 8th placing in the 2008 International Cup was a credit to their hard work and determination. Now they hope to continue their rise up the rankings.
As previously mentioned in WFN articles, AFL Japan's resilience and organisation in attending this year's International Cup, on the back of a pretty traumatic 12 months for the country with the Tsunami, is simply outstanding.
WFN has caught up with team manager, Hideki Miyasaka, on how the team's preparations are going.
The Country and Australian Football
Japan is an archipelago of 6,852 islands. The four largest islands are Honshū, Hokkaidō, Kyūshū and Shikoku, together accounting for ninety-seven percent of Japan's land area. Japan has the world's tenth-largest population, with over 127 million people. The Greater Tokyo Area is the largest metropolitan area in the world, with over 30 million residents.
Australian Football has a long and proud history in Japan, kick starting with a VFL Exhibition Match between Carlton and Hawthorn in 1986. Since then Japan AFL has grown to a national league, involving Tokyo based university teams, and more recently clubs in Osaka and Nagoya. A Japanese representative team, whether it is their university squad or the National Team, tour almost annually. They visit Australia consistently for development tours (involving their partners Box Hill North) and last year they even sent a U21s squad to Shanghai for the AFL Kaspersky Cup/Asian Championships weekend.
Strengths and Weaknesses
Experience and skill level will be a real strength of the Samurais this time around. They are captained by Michito Sakaki, who trained with Essendon some years ago and his achievements in Footy are well documented. They also have 5 players who are currently playing in Australia and a number more with Australian experience. They train hard and will certainly not lose games through lack of effort.
The difficulty they have faced in previous tournaments and will likely meet this time around, is their size and physicality. Their average height is 175cm and average weight is 73kg, and if they come against some teams with some tall and dominant key position players, they could be in some trouble. They meet Fiji and Nauru in the qualification matches, both of whom we expect to be quite strong and good at tackling. That said, last tournament they had a very exciting win over a tough and physical opponent in Samoa, their speed and attack was simply too good for the Samoans, so they will definitely try and use this as an advantage.
Preparation
The Japan AFL season has been running for a few weeks and a training camp was held May 3rd-5th in Nagano Prefecture. Hideki explains "Basically, we did not drop any of the players since not all players from the Top League could join both the Camp and also go to Australia as they have jobs, study etc. But we are happy with the players in the squad."
Dan Jenkins, and his assistant Jun Sekiguchi (an IC08 Japan player) will take the coaching reigns this tournament. Both have been heavily involved with the national team since last year.
Players to Watch
Michito Sakaki (c) Midfielder with blistering speed and great skill.
Ken Sato A young player with fantastic hands and a very accurate kick on goal. Versatile. Likely to swap between ruck, forward and back.
Yuki Saito Currently based with Sydney UTS Bats and very handy.
Bottom Line
Japan are in Group 5, a pretty tough draw. They face Nauru and Fiji. Fiji are currently ranked 14th but as Hideki has noted, they are probably a bit better than that. I would tip them to beat Fiji and lose to Nauru in the opening round of matches and then be in line for a finish anywhere from 4th to 10th. Bigger teams like New Zealand and Ireland will be too good for them, but if they can get a big scalp like Nauru or South Africa, they could find themselves right up there in some important finals.
The Japan Samurais wish to thank their Gold Sponsor, Fosters, for their support in helping them take the field at the 2011 AFL International Cup.