IC11 Preview - The 'Bleus' are looking for their first win
Wednesday, July 27 2011 @ 08:50 pm ACST
Contributed by: Olivier Tresca
Views: 2,985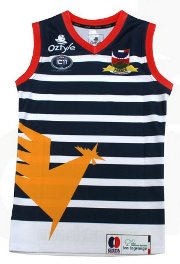 The French are coming to Australia for the first time and whilst their expectations are not high they should give a good account of themselves if as expected they feature in Division Two. But that assumes a loss to Tonga in their first day of seeding matches, and there's no real evidence to make a call either way on that game.
The Coqs, also known as les Bleus, will be coached by Cyril Talon and features perhaps one of world footy's most "widely" capped players in Páll Tómas Finnsson. Not only will he represent France but helped start footy in Iceland (including representing them at EC2010) and also captained Denmark at IC08. He's also a pretty handy player to add some experience to the French team, being named in the IC08 World Team on the wing.
Australian rules football in France

Footy started in France in the early 2000's when a team was created in the Normandy region. Despite a few games played against Australian expats living in Paris, the team soon disappeared. It is not until 2005 that the first clubs were officially created in Strasbourg and Paris. For approximately 3 years the situation evolved very little with both team struggling to recruit players. In this period several attempts were made to set up new teams, but all with very limited success.
In 2008, new teams were created in Bordeaux and Montpellier, and the existing team in Paris managed to constitute a solid base of players. As a consequence, the first French Cup was organised in Paris that year and the host took the first ever French trophy back home. It was also in this year the decision was also taken to organise the first edition of the French league involving all four teams. An official governing body, the Comission National du Football Australien (CNFA) was also created at this time, with its main goals being to help promote and develop Australian football in France.
Since then Footy in France has grown consistently with teams being created in Toulouse, Perpignan and Aix-Marseille. At the same time the already established teams have managed to strengthen their numbers and improve their organisation. Next year will see the first attempt to play regular full format games between the more established clubs.
The National Team
Since 2005, France has taken part in all the major European competitions organised, and in particular the annual EU Cup and now Euro Cup. In the beginning the team was essentially made up of players who could afford the travel expenses, but as the player base grew, proper selection was gradually introduced. France consistently performed in those events with its best result being 6th in the 2008 EU Cup in Prague.
For the last 3 years the French have organised a game against a selection of Australian expats living in Europe to commemorate ANZAC day. The games are being played in Villers-Bretonneux and until this year were played in the 9 a side format. They are now played in full format on a dedicated oval overlooking the Australian memorial.
This constant growth has lead up to the creation of what is probably the best team France has ever been able to put together. The IC2011 will be the first time France takes part in a full format competition, even if some players already have a limited experience in this format, and they hope to come home with at least one victory. In addition to the players evolving in the French championship, players from Canada and Australia will also join in, hopefully bringing more experience to the team.
Strengths and Weaknesses
Like most countries that are relatively new to Aussie Rules, France lacks depth and any injuries will hurt them. Inexperience at full field footy will also be a factor. But don't underestimate the passion of the French and some tough men with Rugby backgrounds. Many players also have experience travelling to tournaments around Europe so they won't be overawed by the trip Down Under.
Form Guide and Bottom Line
France's only full field match in our World Rankings was a big defeat at the hands of Germany, who in turn have had some competitive matches against Europe's top sides, but also some massive defeats. We can also look to their 9-a-side form and conclude that they are improving but not amongst Europe's strongest. However with some expats that have experience in Australia and Canada this could be France's strongest side.
Seeded last out of the 18 men's side at IC11, the French could mount a strong case that they are better than that. Their reported goal is to win at least one match but if as expected they become part of Division Two then they should be looking to make the Grand Final in that grouping. But a win over Tonga in their seeding matches is also distinctly possible and would catapult them into the top 12 - a high finish although tough matches for the rest of the tournament.