Cup draw out on Friday
Wednesday, June 29 2011 @ 09:46 pm ACST
Contributed by: Brett Northey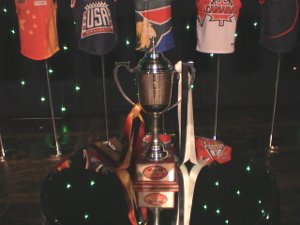 The AFL International Development Manager, Tony Woods, has advised us that the draw for the 4th International Cup will be released to competing nations on Friday 1st July.
WFN hopes to publish the draw probably some time late Friday Australian time.
The AFL has several times extended the deadline for competing countries to give all possible competitors the maximum chance to make IC11 but Friday's release should be the final version and contain details of the expected lightning format and how teams will be seeded into two divisions afterwards. The exciting new format should ensure all nations get to play against a range of opposition whilst still focusing the best teams into the semi-final stages.
Pictured is the 2008 trophy surrounded by some of the national jumpers.
Comments (0)
---
World Footy News
http://www.worldfootynews.com/article.php/20110629221648777