Italians take out prize in Fontanafredda Tri-Nations
Wednesday, June 29 2011 @ 08:31 pm ACST
Contributed by: Aaron Richard
Views: 2,262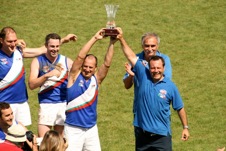 The 2nd Annual Tri-Nations International Tournament in Fontanafredda, Italy was held last weekend, with host nation Italy defeating Croatia and Switzerland to claim the prize.
The tournament matches were conducted on Sunday June 26th, with the Saturday given over to coaching clinics for local 14 and 15-year-olds.
This report courtesy of the AFL Italia.
On the Saturday, Italia coach Nicola Giampaolo and National Team Players Bruno Nugnes, Marco Cei and Phli Carson, held a coaching session for youngsters of 14-15 years of age to introduce them to the sport showing them the skills and rules and playing a 10 minute game which was very much appreciated by the youngsters and organisers.
Sunday was match day and in soaring heat the three countries battled to win the honours.
The first match saw Italy vs Switzerland, with the Italians were too strong for the Swiss, due mainly to major skill preparation and efficient team work. The match benefitted both sides in their quest to develop team play and understanding of tactics and athletic preparation at international level.
| | |
| --- | --- |
| Italy | 10.14 (74) |
| Switzerland | 0.1 (1) |
Goals: Italy - Nugnes 3, Tiranti 2, G Arnulfo 2, P Alloiso, Cei, F Alloisio
Switerland -

In the second match, reigning Euro Cup champions Croatia imposed their superior ball handling and disposal efficiency to easily beat the Switzerland. The young Swiss players tried their very best but could not compete in key position areas such as the ruck and midfield where the Croats were always first to the ball.
| | |
| --- | --- |
| Croatia | 18.11 (119) |
| Switzerland | 2.4 (16) |
Goals: Croatia - Cvetko 6, Koracak 3, Franic 3, Tonsetic 2, Molnar, Tonkovic, Klenovic, Kravar
Switerland - Rosso, Scussat
Italy and Croatia came together in the third match of the day, with the winners to take out tournament honours. The Croats stated certain favourites as 2010 Euro Cup Champions and for their dominance of 9-a-side Aussie Rules in Europe over the past 3 years. The Italians were out to prove that they are fast improving team and ready to make a mark at international level.
The Italians surprised the Croats with fast and swift ball handling in the midfield and strong marking and pressure in attack. The Italian defence was at its best not leaving any room for the Croat forwards to kick freely at goal. Infact, Croatia was left goalless in the ½ half as Italy skipped to a 15 point lead at the change.
The 2nd half was nail-biting as Italy kicked away to a 26 point lead only to see Croatia make a terrific comeback to just 6 points down with only a few minutes to go. Italy steadied and two vital goals late in the game gave them a comfortable advantage and an upset win against the Euro Cup champions.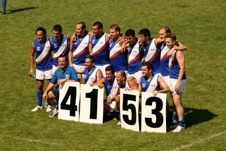 | | |
| --- | --- |
| Italy | 8.5 (53) |
| Croatia | 5.11 (41) |
Goals: Italy - Tiranti 3, G Arnulfo 2, De Giorgi, Quiroga, Pacella
Croatia - Kravar 2, Koracak, Cvetko, Grguric
Congratulations to all the teams; the event was undoubtedly a huge success to continue the promotion and awareness of Australian Football in Italy and Europe.
Particular thanks to the organising committee and staff – timekeepers, scorers, goal umpires, med staff, photographers – who helped to put on a great weekend of sport in true friendship and spirit.