Warriors clip Eagles' wings in clash of Wales' 2 Newest Clubs
Tuesday, June 21 2011 @ 06:13 pm ACST
Contributed by: Aaron Richard
Views: 1,589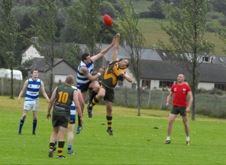 In Round 4 of the 2011 Welsh Australian Rules Football League season, the Vale Warriors were once again in fine form as they saw off the Bridgend Eagles at Heol Y Cyw RFC.
Despite winning their first game of their debut season, the Eagles have gone through a bad patch and struggled in front of goal and only managed to score 3 goals throughout the game. The Warriors, however, have been performing strongly and after nearly upsetting the reigning premiers Cardiff Panthers last week, they came into the game brimming with a confidence that saw them score 8 goals, winning 8.16 (64) to 3.8 (26).
With the Swansea Magpies forfeiting against the Cardiff Panthers, the only other game to go ahead this weekend saw the Bristol Dockers made a strong statement of their intent, with a big win away to the Cardiff Double Blues. Despite an attacking strength that has seen them consistently score well, the Double Blues have struggled in the back and conceded 29 goals against the Dockers. The team from across the Severn comfortably won 29.19 (193) to 9.3 (57).
This report courtesy of Joshua Davey, pictures courtesy of Kevin Welch Photography.
Round 4 Scores
Cardiff Panthers 15.0 (90) vs 0.0 (0) Swansea Magpies (forfeit)
Bridgend Eagles 3.8 (26) vs 8.16 (64) Vale Warriors
Cardiff Double Blues 9.3 (57) vs 29.19 (193) Bristol Dockers
Ladder
| | Won | Lost (F) | Goals | Points |
| --- | --- | --- | --- | --- |
| Cardiff Panthers | 4 | 0 | 57 | 16 |
| Bristol Dockers | 3 | 1 | 64 | 13 |
| Swansea Magpies | 2 | 2 (1) | 37 | 9 |
| Vale Warriors | 2 | 2 (1) | 36 | 9 |
| Bridgend Eagles | 1 | 3 (1) | 15 | 6 |
| Cardiff Double Blues | 0 | 4 (1) | 27 | 3 |