Tuohy makes two for Blues
Wednesday, June 01 2011 @ 09:05 pm ACST
Contributed by: Brett Northey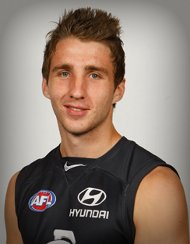 Carlton look set to play 21 year old Irishman Zach Tuohy this week against Port Adelaide in Adelaide. Assuming that Setanta O'hAilpin plays, that will make two Irishmen in the one side, although technically Setanta is Fijian-Irish and born in Australia.
Foxsports is reporting that it will be the first time an AFL side has featured more than one Irish player in a game since Jim Stynes and brother Brian played for Melbourne in 1992, they discount fellow Gaelic footballer Sean Wight given he was Scottish.
Tuohy was recruited from Laois in northeastern Ireland and has spent 2010 and 2011 playing for Carlton's VFL feeder club, the Northern Bullants. He has been elevated from the rookie list. Countryman O'hAilpin will play his 77th game in this his 7th season (starting from his debut year).
---
World Footy News
http://www.worldfootynews.com/article.php/20110601213532158