AFL comes to the Nintendo Wii - including IC08 teams
Wednesday, May 25 2011 @ 07:55 pm ACST
Contributed by: Tobietta Rhyman
Views: 5,102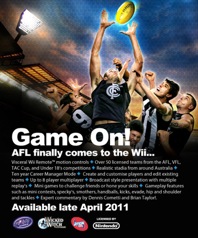 Finally an AFL game for Nintendo Wii! Created by Wicked Witch and published by TruBlu, AFL Wii has been released ahead of schedule. And in a first for AFL games, AFL Wii will also feature an International Cup with teams from IC08.
AFL Wii boasts more teams and greater player progression than any other AFL game. Including the 2011 AFL teams and Greater Western Sydney, there are over 70 different teams to choose between and 5 different leagues. There are also bonus teams, such as the 2010 All Australian Team. You can also play in the NAB U18 National Championship.
As a player, you can just start in the AFL, or if you are into player progression, start as an under 18's player in the TAC Cup and depending on how well you develop, progress into the VFL or AFL.
There are 16 stadiums including 12 AFL venues and 4 country Victoria venues to support VFL and TAC Cup matches.
The game includes many Wii style features such as the "mini contests" within play which add to the realism and excitement of contested marks, speckies and close tackles. There are also features unique to AFL Wii such as off the ball bumping, tapping the rolling ball, smothers and shepherding. However, if you are not a fan of these, they can be easily turned off. In addition to the onfield action, there are also multiple replays and commentary from Dennis Cometti and Brian Taylor. You can even adjust the camera angles, weather conditions and other gameplay options to customise your experience.
And similar to other games, there is also a player creator. You can decide the name and even nickname of you player, as well as choose a face, head shape, skin colour, hair style, height and weight. You can even add tattoos and bandages (perhaps after one too many of those contested marks) and of course your player can have your favourite number.
In addition to the main competitions, there are also 5 mini games you can play to improve your skills, such as a game similar to Lou's Handball, a basketball style 3-point shootout kicking at goal from outside the 50 metre line, a Horse goal kicking game, a marking game, and a free for all game.
Some of AFL Wii's main features include:
• Quick match mode
• A competition mode where you can draft a fantasy squad to play in any competition
• Player career mode
• 10 year career manager mode
• Straight or three way trades with multiple players, including draft picks.
• Contract negotiation.
• Face tribunal with disciplined players.
• Chose medical treatment for injured players.
• Financial extras such as salary caps, staff wages, ticket sales and merchandise.
• 29 player attributes to work on in training to improve your squad's ability.
• Brownlow medal, club best and fairest, Coleman medal, NAB rising star and Norm Smith medal.
• Team editor to change the lineup and player ratings
Currently the game is only available in Australia, but Wicked Witch hopes to bring out an iPhone version in the near future which will be compatible with foreign models, and may even feature teams from this year's IC11. Until then, take a look at their trailer and some of the AFL and International Cup screenshots.