AFL pay day likely to yield an international dividend
Friday, April 29 2011 @ 06:43 pm ACST
Contributed by: Brett Northey
Views: 2,500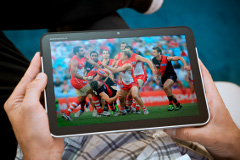 The AFL media rights bonanza will have all parts of Australian football putting their hands out for money. International footy volunteers will argue that surely their time has come. The answer is likely to be yes, to some extent but in a sustainable way. Trawling through all the media reports we have spotted further reason for hope.
As has been widely reported the AFL has completed its TV rights deal for the next 5 years, scoring a remarkable AUD$1.25 billion (US$1.37 billion, €920 million). The deal requires 9 games a week and is seen as guaranteeing the short term future of the 18 AFL clubs, although some are pointing out not necessarily where those 18 clubs are located (both North Melbourne and Port Adelaide have been suggested as candidates to shift to Tasmania by some reporters, but that seems highly unlikely in the next 5 years).
Even before the clubs had a chance to ask for more money the AFL Players' Association has been running a campaign to secure a host of improvements ranging from player welfare, superannuation, removal of rookie listing of players (expanding full time lists) and a fixed percentage of the AFL TV rights (27% has been mentioned). Of course it would be interesting to see what happens if a future TV deal is for a reduced total; would the players be happy to take a pay cut? Once the the clubs and players are taken care of the cake is suddenly much smaller. The AFL will also probably want to add to their war chest for "winning" the battle for hearts and minds in Greater Western Sydney and the Gold Coast.
It has to be remembered that all these bids will be for the money in the deal above what is spent in the current 5 year AUD$780 million rights, i.e. there is "only" about $94 million per year above the last rights.
But even when the above allocations are made there is no doubt it should leave the AFL with a comfortable margin to expand some of their lower profile projects - and clearly that must include international football.
In the seven years that worldfootynews.com has been reporting on the game's global reach we've been in the fortunate position to be able to report on an almost continuously upward curve. There have been lumps and bumps along the way but the AFL has been playing an increasingly positive role, but still within a fairly constrained budget. Our understanding is that the Game Development department has been keen to argue for a bigger slice of the pie, or at least to have that slice grow bigger as the pie grows. With the TV rights bonanza we expect to see the upward curve get steeper - if footy is to claim a solid hold internationally then all the conditions are now in place for that acceleration to occur and so it must be now.
Encouragingly AFL CEO Andew Demetriou has been referenced as mentioning that international football should benefit from the deal. We're yet to see a direct quote, but the Herald Sun reported that:
Mr Demetriou said the league had ideas about helping struggling clubs and also hoped to use the money to strengthen international, multicultural and women's programs.
That's only the briefest of mentions, but long time followers of world Australian football would know well that Demetriou does not "accidentally" mention a topic, especially international footy, and combined with positive recent signs of serious support such as for the World 18 youth, South Pacific youth and AFL Europe, we hope to see some further good news in the next year Over the next few months there will be a lot of bargaining from all football stakeholders, after which WFN will certainly be asking the AFL's international staff what new benefits will flow. Perhaps exciting times are with us.