Tuesday, April 26 2011 @ 07:04 am ACST
Contributed by: Aaron Richard
Views: 4,647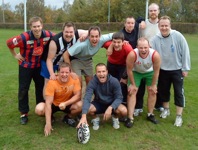 As the European summer approaches, bringing the footy season with it, a few hardy locals and expat Aussies are building new clubs in Scandinavia, adding to the current footy communities of Sweden and Denmark.
South-eastern Sweden has a footy club for the first time, with the Karlskrona Magpies kicking off late last year. In Denmark, half-Danish Aussie Dan Petrolo is working hard to bring the sport to the city of Odense, with some practice matches against other Danish sides in the pipeline.
LEFT: Some of the founding members of the Karlskrona Magpies in late 2010.
Karlskrona Magpies
Located in south-eastern Sweden, in the Province of Blekinge, Karlskrona is the home of Sweden's newest club, founded by expat Australian Robert Colvin and a squad of his Swedish workmates.
Robert Colvin grew up in a mad Collingwood family, and says he remembers watching the 1990 premiership (at age 7) like it was yesterday. "My Dad was so nervous having gone through the '70s and '80s with all those Grand Final losses, he couldn't watch! I was at the last game Collingwood played at Victoria Park, had Mick McGuane's 34 on my shirt... all the usual stuff," Colvin says.
Always being tall for his age whilst growing up in Melbourne (nowadays standing 6'4"), he was regularly asked to play football, but instead focussed on basketball. Ironically, it was moving to Sweden that saw him play footy beyond the backyard for the first time.
Working for Ericsson in the city of Karlskrona, Colvin kept up-to-date via the internet for the first few years, but that was about it. Then when the Pies made the Grand Final last year, he invited some workmates round to watch the match. "I told them to come over at 6 o'clock. They then asked 'you mean 6 in the evening right?', and I said 'No, six in the morning, Melbourne is 10 hours ahead', to which they replied 'Oh, you mean to watch? We thought you wanted to play, we dont want to watch, we want to play!"
Fortunately, Colvin had brought a footy with him from Melbourne, and organised a session at a local park. "I showed them how to play, and thats about it, really. The guys here really pushed a lot, and we got a lot of people to play in the end."
"We've had 17 people so far, which is incredible, and all from Ericsson, so hopefully we can find some people in the area that would like to play, and get 18 people regularly. Apart from me, and a temporary colleague from Canada, all of them are Swedish!"
"Explaining the rules has been the biggest hurdle to cover. Especially when in a game, you have people with soccer, Gaelic football, rugby and American football backgrounds, so explaining Aussie Rules can be a little tough. But everyone has been really enthusiastic, which has been awesome, and we now have a plan for this year."
"The goal for this season is to increase the number of regular players, and expand outside of Ericsson. After that, a regular game once a week, and some skills sessions. Our major goal for this year is to play a few games against other clubs, and then see what happens. But it would be great to take a trip to a few other clubs for some practice matches, maybe get some people to come to Karlskrona."
Located within 3 hours drive of the Scanian clubs based in Malmö and Helsingborg, this is definitely feasible. "My imagination often runs away with me, but I would love to see maybe a good exhibition match in Karlskrona, and see if we can get some people interested," Colvin says.
"Outside of that, I am hoping to get some news into the local papers and get some publicity for us, and hopefully increase awareness and interest in AFL in Blekinge."
After a series of scratch matches held between the Karlskrona Magpies and "Lyckeby Lions" during the last few months of last year, Colvin created a Season Review DVD and got the squad together for an end of year dinner at Stars and Stripes, where they awarded the Best & Fairest (dubbed the McGuane Medal) etc. Colvin sent a copy of the DVD to all his family and friends in Australia, and his father suggested that he take it to Collingwood FC. Whilst this hasn't happened yet, the Karlskrona Magpies are hopeful of striking up a relationship with their AFL namesake in future.
The Karlskrona Magpies can be contacted at karlskronamagpies.com or via their Facebook page.
Odense
Denmark's third biggest city, Odense is located on the island of Funen, halfway between Copenhagen and the Jutland clubs in the DAFL. Australian expat Daniel Petrolo has recently moved to the city and is keen to bring footy to the city for the first time.
Petrolo moved to Denmark to get in touch with his Danish roots. "What brought me to Denmark was my Mother, she's Danish and all of her side of the family is here. I haven't spent any time with them before," Petrolo says.
Back in Mildura, north-western Victoria, Petrolo spent ten years playing footy with the Irymple Football Netball Club, never missing a season and building what he considers a very good knowledge of the game.
As of early April, the Odense group was starting out with around seven players interested in forming a club, with the DAFL working to encourage another Danish club to visit them for a practice match. The next step could be for Odense to join either the Jutland or Zealand local league in 2012. Petrolo says "I think the first step for the Odense club is just to have a few practise games towards the end of the season and then possibly join a league next year. Doesn't matter which league, I think we will give them a run!"
To get in touch with Daniel Petrolo and the new Odense footy club, please visit their Facebook page.
In addition to Odense, the East Coast Bulldogs are kicking off a new club in the city of Hundige, just to the south-west of Copenhagen. The Bulldogs can be contacted at eastcoastbulldogs.dk.