2011 AFL Women's Nationals
Sunday, April 24 2011 @ 01:31 pm ACST
Contributed by: Tobietta Rhyman
Views: 3,496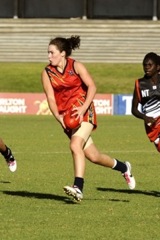 Fixtures for the 2011 AFL Women's National Championships have been announced by the South Australia Women's Football League. The event will take place in June with games held at four different locations around Adelaide.
Eight teams, representing each state and territory in Australia, will take part in the 5 day competition. The teams will be divided into two divisions. Division 1 includes Victoria, Western Australia, South Australia and Queensland. Division 2 includes Tasmania, Northern Territory, New South Wales and Australian Capital Territory.
The event will run from June 7th to 11th, and will include a rest day on the 9th. An opening ceremony will be held on the 7th at the City Mazda Stadium, Richmond. The Grand Finals will take place at Gliderol Stadium, Glenelg, on the 11th.
LEFT: South Australia's Danielle Crisp pulls away from a Northern Territory opponent.
Division 1 Fixtures
Day 1 - June 7th - City Mazda Stadium, Richmond
11.00am WA vs VIC
3.45pm QLD vs SA
Day 2 - June 8th - Woodville Oval
10.30am WA vs QLD
2.30pm VIC vs SA
Day 3 - June 9th - REST DAY
Day 4 - June 10th - Adelaide University Oval 2
10.45am VIC vs QLD
12.45pm SA vs WA
Day 5 - June 11th - GRAND FINALS - Gliderol Stadium, Glenelg
12.15pm 1st place vs 2nd place


Division 2 Fixtures:
Day 1 - June 7th - City Mazda Stadium, Richmond
9.00am NSW vs ACT
1.45pm NT vs TAS
Day 2 - June 8th - Woodville Oval
8.30am NT vs ACT
12.30pm NSW vs TAS
Day 3 - June 9th - REST DAY
Day 4 - June 10th - Adelaide University Oval 1
10.30am NT vs NSW
12.30pm TAS vs ACT
Day 5 - June 11th - GRAND FINALS - Gliderol Stadium, Glenelg
10.00am 1st place vs 2nd place