Season Preview - All new Southern China Football League (SCAFL) kicks off this weekend
Friday, March 11 2011 @ 03:55 pm ACDT
Contributed by: Andrew Sawitsch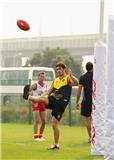 It may only be March, and one of the teams may only be less than a year old, however this weekend will see Round 1 of the newly formed Southern China Football League (SCAFL) played amongst much fanfare in Guangzhou this Saturday.
In possibly the biggest development in the Asian scene so far this year and another watershed moment for Australian Football in China, four teams in the Pearl River Delta region of China (Guangzhou Scorpions, Hong Kong Red, Hong Kong Blue & Macau Lightning) will come together this Saturday for what's been billed as the inaugural 'Gala Round' and ultimately hold 5 rounds up until June to decide the premier team of the 2011 season.
The league is the third to be started in China in as many years, with the Beijing Bombers and Shanghai Tigers clubs starting 9-a-side leagues, BAFL in 2009 & SHAFL in 2010 respectively, as a way to fill the gaps in competition calendars that long distance can cause. The SCAFL however, is unique in that it is played with 12 players per side, incorporates 3 established clubs in the region who are within only 1-3 hours travel of each other and Guangzhou's home ground is a world class cricket stadium, used in last year's Asian Games.
Editor: worldfootynews.com welcomes back Andrew "Sanga" Sawitsch to our writing team, after his extended time working in Japan and China.

The Guangzhou University of Technology Cricket Stadium, or "GUTS", as it's affectionately referred to by its proud tenants, the Guangzhou Scorpions, are thrilled at the prospect of having a full size Australian Football field in their possession. Jon Hopper, president of the Scorpions explains "Melbourne has the MCG, Guangzhou the future Aussie Rules capital of China has GUTS!"
The concept of SCAFL was first talked about last year when a few members of the Guangzhou Scorpions joined with Hong Kong for a match against Singapore. The Scorpions also played their first match in their own right against Macau Lightning in May and in September the expanded China Cup was played in Hong Kong, featuring a combined China Reds team (including some Guangzhou representatives), Macau Lightning, Hong Kong Dragons and an annexe team of the Dragons, the Pok Fulam Vikings. (WFN report: Hong Kong to host China Cup) A match was also played between the Dragons and Scorpions in Guangzhou late last year to round off their seasons. Naturally the dialogue continued and in January this year a SCAFL board was formed, involving all four founding teams. Since then a lot of hard work has ensured that a successful SCAFL season beckons.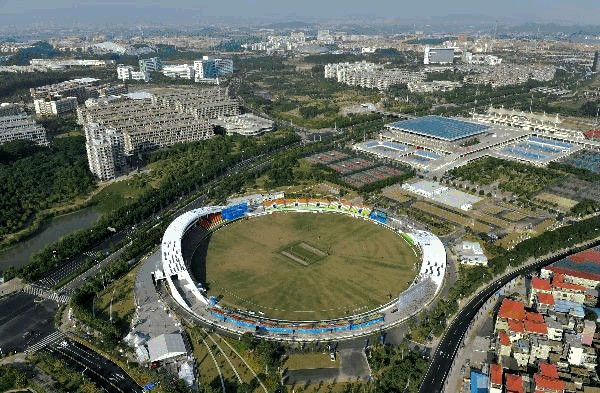 The Pearl River Delta is China's main economic hub and having access to a world class cricket ground, fine weather for most of the year, a good supply of umpires and a sizable Australian expatriate community in the region, certainly makes it exciting to think of the possibilities for further growth of the league. In fact, Jon Hopper has told WFN that a new team from the Shenzhen region may even be a prospect as early as next season. Hong Kong as a club have in recent years had very healthy numbers for their matches and tours and will comfortably field two evenly matched teams in this year's competition. From a development point of view, both Hong Kong and Macau now have established Auskick centres, all teams hope to include some local and international talent on their list in SCAFL games and there are discussions about having a rule in which each team must have one local on the field at all times. With the China Red Demons hoping to attend the International Cup again this year, this new Chinese footy chapter could uncover some more recruitment avenues for them. Of course, we'd love to think that one day too, Macau and Hong Kong, as they represent themselves independently in international sporting events in other sports, could one day field International Cup teams in their own right as well.
WFN will continue to post updates on the league and wishes all teams the best of luck for the season. Congratulations to the organisers on this exciting new initiative.
[page_break]
SCAFL 2011 FIXTURE & SCHEDULE:
ROUND 1 - 12th March 'Guangzhou Gala Opening Round' (2x15min halves), Guangzhou University of Technology
12:00 - 12:35 Guangzhou v Macau
12:50 - 13:25 HK Red v HK Blue
13:40 - 14:15 Guangzhou v HK Blue
14:30 - 15:05 Macau v HK Red
15:20 - 15:55 Macau v HK Blue
16:10 - 16:45 Guangzhou v HK Red
17:30 Depart Grounds
18:30 - 20:00 Official Post Match Function at the Consular Generals Residence
22:00 Bus departs to Hong Kong
ROUND 2 – 2nd April (Revert to 4-quarter format)
Macau v Guangzhou, Macau
HK Red v HK Blue, Hong Kong
ROUND 3 – SPLIT ROUND
16th April Macau v HK Red, Macau
30th April HK Blue v Guangzhou, Hong Kong
ROUND 4 - 4th June
Macau v HK Blue, Macau
Guangzhou v HK Red, Guangzhou
ROUND 5 – 18th June - FINALS - Season concludes with the 'Hong Kong Gala' All 4 teams play in the deciding matches
TEAM PROFILES:-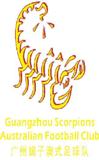 GUANGZHOU SCORPIONS
Sponsors: Boomerang Bakery, Just Beer, Michael Page International
Coach: Grant Dooley
Key players to watch: Dooley, Wadhwani, Warren, Fevola (*)
WFN Prediction: 4th
Round 1 Squad:
1 Matt Warren
2 Adrian Ellis
3 Ruud Langeveld
4 Tuen Hompe
5 Nick Anson
6 John Browne
7 Richy Weisbach
8 Matt Johnston
9 Matt Harper
10 Kunal Wadhwani
12 Hong
14 Nimrod Abarbenal
16 Grant Dooley
16 Nick Grigoriou
21 Guillaume Adam
22 Mark James
23 Shane Donaldson
24 Jon Hopper
26 Tom Ryan
36 Nathan Lieschke
Club president Jon Hopper has told WFN that despite the Scorpions only playing their first game about 10 months ago, they already boast 10 different nationalities on their list and have high hopes to further grow the code, through universities and other avenues, to ensure the club is there to stay. "One of the aims of the Scorpions is to expand the love of Aussie Rules outside of the Australian expat community in Guangzhou. This will be critical for the long term success of the club in a city that has a much smaller expat community with a very different demographic compared to Hong Kong"
The Scorpions have already had their fair share of promotion and controversy as well. Troubled former AFL star Brendan Fevola, was spotted having a practice kick in a Guangzhou scorpions jumper and speaking with Coach Grant Dooley at the Asian Championships in Shanghai last year. When he was recently delisted by the Brisbane Lions, there were rumours running rife that he would be moving to Guangzhou to play for the Scorpions. Ultimately though, he has decided to settle in Melbourne play for the VFL's Scorpions, Casey. Guangzhou however will always hold on to the possibility of having him return to China!
On field this year, with the team only having played a few games together and being new to the scene will probably struggle to take the title. Their clash against Hong Kong late 2010 saw the Dragons win quite comfortably. Nevertheless, their home ground advantage for round 1 and healthy playing numbers will certainly make them a force to be reckoned with. Very likely that they'll win a few games and make some massive strides in their development along the way.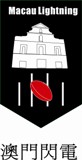 MACAU LIGHTNING
Sponsors: Roadhouse Macau, Sinomac Business Services, Moretons Steakhouse, Boost Juice and Kids City (City of Dreams)
Coach: Troy Harris
WFN Prediction: 2nd
Round 1 Squad:
1 Tony Mitchell
4 Terry Jursa
7 Dane Franklin
11 Michael Keen
12 Kurt Gissane
18 Andrew Hanley
19 Glenn Kirkman
22 Troy Harris
31 Jason Elton
46 Marty Partridge
69 Geoff Hodgson
88 Andy Crisafi
113 Chris Rogers
Timothy Jeffares
Loren Stout
As a club, the Macau Lightning has come a long way in a short time. Troy Harris got things started in 2009, with juniors and a small group of adults having a kick, just one year later, the Lightning made their Asian Championships debut in Shanghai 2010. Despite still being without a win in their short history, the good news is, the only way is up and currently the group is in training twice a week, with fitness sessions Thursdays and skills sessions on Sundays. Troy is confident of a consolidating year for his boys in season 2011. "Lightning are looking to improve and we're really excited about the guys that have only taken up the game last year and see how far they have developed. We have been lucky to have not lost any players and have picked up two new players. We are also looking to recruit more. Anything is possible; maybe Lightning will be the inaugural SCAFL premiers."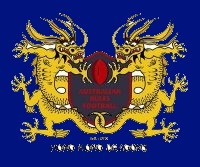 HONG KONG BLUE
Sponsors: Bulldogs Bar & Grill, Michael Page International, Fosters, meatmarket.hk
Coach: Dominic Dunn
Key Players to Watch: Burns, Barbaro, Dunn
WFN Prediction: 3rd
Round 1 Squad:
6 Jarrad Crighton
15 Jonathan Worthley
19 Stephean Aebi
24 Simon Dodd
28 Robert Burns
29 Will Burgess
30 Warwick Kendall
35 Paul Mallia
44 Jaydon Campbell
47 Christian Romano
56 Thomas Murphy
57 Shaun Langhorne
58 Shaine Munro
59 Travis Briggs
60 Andrew Harrison
Having formed in 1990, the Hong Kong Dragons are somewhat of an institution and their results on field the past few years speak for themselves. Club president Robert Burns has explained that..."To better support the spirit of the SCAFL and make things competitive on a domestic front we have decided to form two HK teams that will be evenly matched and maintained throughout the SCAFL season" "Dom "Bowski" Dunn ran the draft at Kila Bar a few weeks back to launch the concept and name the teams. Picking the teams is challenging because your best players may not always be available. Anyway two teams have been formed and everyone likes the concept. Opening game is HK 1 vs. HK2 so now we need to make sure we don't run each other into the ground although a little competitive spirit wouldn't hurt"
Hong Kong have organised a bus to take the large travelling party across the border for round 1 this Saturday. At this stage it is hard to tell how the results will look and it will take time for the teams to gel and get their own structures. On first glance they do look to be quite even teams. The only thing that makes Red a bit stronger is the listing of Troy Clements, last year's Asian Champs player of the tournament, but there is talk that he may be shifted around and used as a wild card between the two Hong Kong teams throughout the season. At the end of the day, most of the Hong Kong Dragons playing group have busy work schedules and are more interested in enjoyable, consistent and even games of footy that better prepare them for matches and tours such as the Asian Champs, which are this year being held in Bangkok in August.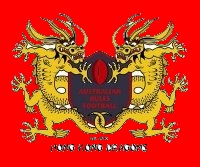 HONG KONG RED
Sponsors: Bulldogs Bar & Grill, Michael Page International, Fosters, Meatmarket.hk
Coach: Dwight Stuchberry
Key Players to Watch: Clements, Stuchberry, Wu
WFN Prediction: 1st
Round 1 Squad:
0 Troy Clements
4 Dwight Stuchbery
12 Matthew Jackson
16 Peter Kenny
17 Matthew Feeney
18 Matthew Wu
22 Paul Greening
32 Colin Mitchell
42 Gary Wines
46 Ryan Lawson
53 Gerry O'Sullivan
54 Tim Hosford
55 Jason Powell
69 William Dunn
88 Man Cheung
Comments (0)
---
World Footy News
http://www.worldfootynews.com/article.php/20110311151751563