Captain Kirk's enterprising journey begins
Friday, January 28 2011 @ 06:08 am ACDT
Contributed by: Brett Northey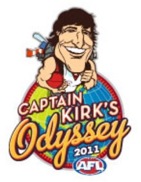 Former Sydney Swans' captain Brett Kirk and his family are about to embark on his round the world odyssey promoting the 2011 International Cup. The International Cup Ambassador begins his six-month world tour today, Friday, January 28.
He will travel to more than 15 nations that will participate in the 2011 International Cup in August. His first stop is Sri Lanka. He will then continue to India, South Africa, Europe and North America.
"I look forward to working with and visiting nations which have embraced our game and are preparing for the International Cup," Brett said.
Follow Brett Kirk's Odyssey on Twitter, Facebook and the web.