Positive Growth for Footy in Austria, but IC11 off the plan
Monday, January 17 2011 @ 09:19 am ACDT
Contributed by: Aaron Richard
Views: 3,176

Team Austria have signalled that they won't be coming to the 2011 International Cup, with Martin Schittegg from the Graz-based Styrian DownUnderDogs citing a lack of sponsors and players who could afford the trip as the main reasons.
"We set ourselves the target that we had to decide by the start of December... By that deadline we had only 13 players definite, plus around 9 more who weren't sure if they could organise it, or whether they could afford it," Schittegg says. The potential squad was made up exclusively of players from the DownUnderDogs, with no players from the Vienna Kangaroos nominating to make the trip.
However, whilst it looks like 2014 might be the first time we see an Austrian team at the IC, Schittegg says there has been plenty of positive growth for footy in Austria, where the Dogs and Vienna Kangaroos are planning some new projects for local and regional footy in 2011.
"At the DownUnderDogs we have 25 players at the moment, of which 18 are regularly at training. The 25 players include 23 Austrians and two Italians. This year we're going to divide up the squad into two teams, so that we can contest a Styrian premiership," Schittegg says.
"In addition to that, we have plans to run a championship with the clubs from Croatia, and also to have an 'Alpine Cup' with Switzerland."
Schittegg says their coach is a member of the squad who is currently unable to play due to a long-term back injury, but who also works in the area of Health and Fitness and puts a professional edge into the Dogs' preparations. They also have a group of 4 players, who are responsible for devising technical and tactical preparations for the team.
The DownUnderDogs have been on the lookout for an Australian partner club, but so far haven't found a suitable match. "Fremantle offered us support, but we would have had to change our name and colours. As Graz is anything but a harbour town, and we're also very proud of our name, that didn't work out."
"Last year we had regular articles in the media, about once a month in various newspapers. We're going to push harder on that this year, and we've also good some good contacts to Austrian TV. We're just waiting for a good time to launch the season, so we can present the right image."
"Regarding how people can help, our goal is just to keep growing and make more people aware of our sport. So the best way people can help us, is to let more people know that we exist, and that we're always keens for more players and fans."


Austrian local footy action from 2010 - Styrian Down Under Dogs vs Vienna Kangaroos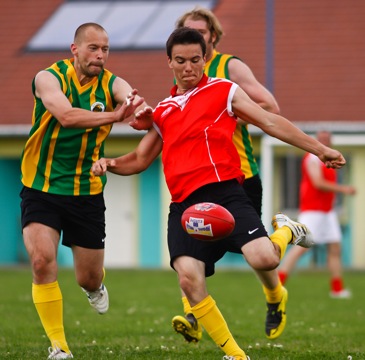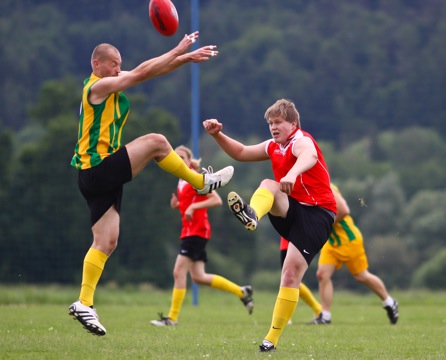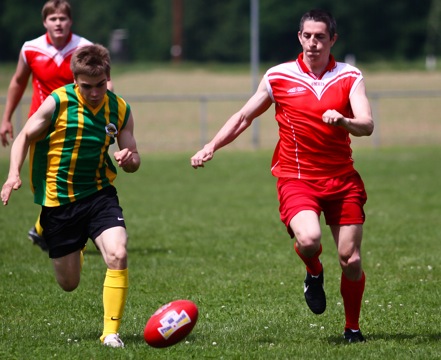 Photos courtesy of Andreas Kröll.