AFLPNG Under 15 squad selected for Oceania Cup (Youth) in Tonga
Wednesday, November 10 2010 @ 09:31 am ACDT
Contributed by: Rod Shaw
Views: 2,858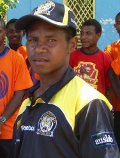 Whilst the senior Oceania Cup in New Zealand has disappointingly fallen over, PNG is gearing up for the youth Oceania Cup to be held in Tonga during December. Coached by Pint Kar the boys are already focused training several times a week. Competing against NZ, Nauru, Samoa, Fiji, Tonga and the Solomon Islands, PNG's Head Coach is quietly confident that they will be very competitive throughout.
"We have a strong presence of academy players who are well-drilled and well-trained so we are confident of success come December. The PNG Talent pathway has created many opportunities for these kids to play football across the world, and they are all benefiting from it in many ways outside of football".
Two of the boys, Gideon Simon (pictured left) and Nathan Malbak (pictured right) will undergo training with the rest of the team before leaving to travel to Melbourne to train with the Richmond Tigers. Gideon was excited about the prospect of heading down to Australia. "I'm looking forward to travelling to Melbourne, meeting the Tigers and going through all the tests and training drills that will be set".
Simon and Malbak started their footy careers at very young ages and both have developed at the AFL academy in Port Moresby into players with extreme potential.
Squad
Bruno Arnold, Junior Lavu (Highlands), Samson Augerea, Brendan Beno, Theo Gavuri, Ezra Gotuno, Scott Johnson, Douglas Kaiwa, Freddy Kalandi, Ezra Kautu, Rau Kobale, Max Lavai, John Jim Lavatu, Alois Luba, Noel Maguna, Nathan Malbak, Ori Nilmo, Gideon Simon, Jason Soong (AFL ACADEMY PNG ), Isaac Bakani (Islands), Albert Gabi, Harry Kambuou, Joshua Kavapo, Nane Rai (Northern), Michael Macca, Eddie Meli, Jeconiah Peni, Raymond Prenai (Southern)