Hawks Cups Completed for North Island of NZ
Thursday, November 11 2010 @ 09:20 am ACDT
Contributed by: Rod Shaw
Views: 1,723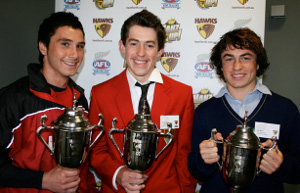 The Junior Secondary Schools Hawks Cup Cluster competitions have been completed for the New Zealand North Island. The Hawks Cup sees Junior Secondary School teams across New Zealand compete for North and South Island honours and positions in the New Zealand Under 16 team.
The competition has been buoyed by the announcement that the Senior Secondary School competition has been sanctioned by New Zealand Secondary Schools Sports Council and will enter the sanctioned sports calendar as of March next year.
All the North Island results below, courtesy of the AFL New Zealand - nzafl.co.nz
Mahurangi College were dominant in their clash against a young Orewa team to take out the Kaipara Cluster.
Orewa College had a good win against Kristen but still not enough to make them forget the drubbing they copped from the all conquering Mahurangi team.
Waitakere, Massey and Liston Colleges battled out an extremely close contest in the Waitekere Cluster with Massey taking out the final by a solitary point against a gallant Liston team.
In the Central Auckland Cluster, One Tree Hill showed great structure and rotated their bench extremely well to account for both St Pauls College and Mount Roskill Grammar.
Papatoe showed some class with the assistance of NZ Hawks Under 16 members and will be hard to beat in the final.
Onslow College backed up last year's inaugural victory in the Wellington cluster with a strong win over Wellington High followed by a one point victory over Wellington College in the final.
Otago Boys High easily accounted for fellow newcomers John McGlashan High and Kings High to see them move into the South Island Championships final against St Bede's College in Canterbury next week.
Last year's Bay of Plenty Cluster winners Edgecumbe College retained the cluster title and will be hard to beat in the North Island Champs November 6th at Moire Park West Auckland.
Those competing will have the opportunity to be included in the Under 16 New Zealand Hawks team to travel to Tonga in December this year.
Hawks Cup Results
Central Auckland Cluster
One Tree Hill 25 d Mt Roskill Grammar 6
One Tree Hill 37 d Saint Pauls College 28
Mt Roskill Grammar 41 d Saint Pauls College 32

Waitakere Cluster
Massey High School 42 d Waitakere College 19
Liston College 51 d Waitakere College 0
Massey High School 39 d Liston College 38
Manukau Cluster
Papatoetoe High 46 d Wesley College 8
Aorere College 25 d Wesley College 17
Papatoetoe High 18 d Aorere College 10
Kaipara Cluster
Mahurangi 219 d Orewa 39
North Harbour Cluster
Orewa College 45 d Kristen College 19
Bay of Plenty Cluster
Edgecumbe 69 d Trident College 27
Wellington Central Cluster
Wellington College 46 d Wellington High 39
Onslow College 52 d Wellington High 12
Onslow College 8 d Wellington College 7
Otago Cluster
Otago Boys (1) 58 d John McGlashan 1
Otago Boys (2) 11 d Kings High 10
Otago Boys (1) 47 d Kings High 7
John McGlashan 19 d Otago Boys (2) 14