Midwest Magpies - from inception to Finals contenders
Friday, August 27 2010 @ 04:04 pm ACST
Contributed by: John Corrigan
Views: 2,468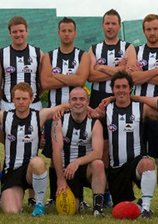 While the other two new sides to the ARFLI this season are clubs that have reformed, the Midwest Magpies are an entirely new identity. This makes their performances so far all the more impressive.
The Galway-based club started the season with three narrow defeats, however their season was turned around when the Magpies defeated the previously unbeaten South Dublin Swans and backed it up by beating the Midland Tigers by 74 to 26. This fine form continued in a 5 point win against the Leeside Lions only for the Magpies to lose their most recent game by three points to fellow new boys the Clare Crows. Despite this loss the Pies are still very much in the mix for a place in the finals.
Worldfootynews spoke to founder member Tony McAfee about the origins of the club, how the season has gone and about playing basketball against Barry Hall.
WFN- Tell me about how the club was founded?
Tony McAfee-Our origins start with the defunct Mayo Mariners team from a few years ago. Despite having ground/kit etc...they never really took off. It was decided that Galway city itself was a better base for the west of Ireland as a catchment area focal point. So early this year Ciaran O'Hara (ARFLI president) put an advertisement in the paper about the Midwest Magpies starting training. The first training session saw 6 lads in total turnout. Most of them had been in contact with Ciaran before and played Aussie Rules in Ireland. I think I was the only real 'newbie'. From day one Ciaran gave me the footys and I've been to every training session since.
WFN-How have numbers been so far?
T Mc- Our numbers remained low for a month or two and began to increase steadily after that. We are still getting new recruits on a weekly basis and one of the hardest things is retaining them (if we retained them all our numbers would be close to 50). I'm not really sure as to the reasons behind that, guess there are a few.
WFN- Following the successful launch of the club this year what are the future aims for the club?
T Mc-Next year I want to try and put the club onto a strong ad-ministerial level so that we have a solid foundation to push Aussie Rules forward here in the west of Ireland. In the longer projection I think it is entirely possible that we could field a women's team that I hope to develop by running a Rec Footy competition along the lines of Tag Rugby that is so very popular here in Galway. It would give us something club related on weekends when games aren't taking place. I do hope to develop stronger links to maybe a GAA club and we need to settle on a local watering hole but it will all come together.
WFN- What is your back round in the sport?
T Mc- I hadn't played any Aussie Rules since I was a teenager back in central Victoria. Those days I played a lot of sport and even played basketball against Barry Hall! Having lived in Galway for the past 5 years, and now married and committed to staying here, it was a way of involving myself in the community and building friendships.
WFN- How have you gone about recruiting players?
T Mc- Recruitment has very much been word of mouth up to this point. We have had a few recruits from newspaper articles (like myself) and a couple from other clubs that have moved to Galway for personal reasons but we rely on players getting the word out there and it has worked very well so far. I did manage to recruit from ANZAC day in the pub as well, which proved a great success. Our numbers are steadily growing at training. We now get 12-16 every week.
WFN- How has it been trying to establish a training base?
T Mc-We train once a week in South Park Claddagh at half 6 and always end with a match. The ground is owned by the council but I think it is run by the Fr. Griffins GAA club (not to sure on that one). We don't actually have official permission to be there as yet but that will come. In our debut season I'm trying to secure different venues for each home match so as to find the best amenities to suit our needs for the next year before committing to any one ground.
WFN- What is the mix of players between Irish and Australian?
T Mc-In the beginning I was the only Aussie on the team. Now there is 4 players, 1 non-playing and a few more floating about that I want to pin down. Surprisingly we have 2 kiwis willing to give it a crack! But on the whole we are Irish...an interesting fact is that non-Galway players out-number the Galway players. I'm guessing that is due to lads moving for work and not wanting to play sport for another county. But that gives a hint as to the best place to recruit as well.
WFN- How have you found the standard so far?
T Mc-The standard so far has been good. We do have a few exceptional players that have taken to the game (albeit with a few Gaelic football hangovers) extremely well. There are common mistakes that all Gaelic players make ie; kicking in danger, not tackling/sheparding enough, playing on from the mark to quickly, not standing on the mark, flick pass instead of handball. And our rugby players love to kick the ball very short distances and do tend to look backwards for the pass! In terms of kicking, well, that is a lifelong quest for a lot of us! All in all I'm happy with the standard and we just need to focus on gelling as a team and creating set plays and using tactics.
The success of the club has been reflected with Declan Coyne playing a prominent role in Ireland recent European championships victory in Sweden and Denmark. While most start up clubs struggle to get a foothold in their debut season the Magpies have surprised everyone in the league including perhaps themselves by winning three games out of seven so far. They are the only side to beat the Swans this year and their victory over a Lions side full of Irish internationals proves that they could do some damage come finals time.