The face of African footy moves on
Thursday, August 12 2010 @ 07:26 am ACST
Contributed by: Brett Northey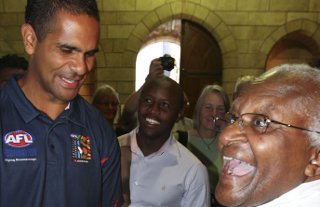 The past decade has seen the remarkable rise of Australian football, or FootyWILD as it is marketed, in South Africa. For all of that time if there was one name, one person, who embodied the game's journey and was the sport's public face, it was Mtutuzeli Hlomela. He has been many things to many people; a friend, an inspiration, an on field leader, and an off field promoter, developer and ambassador.
Sadly for many of us who have come to know Mtutu along the journey, the 29 year old from Gauteng has departed AFL South Africa to "pursue alternative employment in Johannesburg".
His well documented career began in 1998 when he spent a year in Adelaide with the Sturt Football Club, having arrived thinking he was on a soccer scholarship, but happy to take on a strange new game. We won't recap in detail all the years in between, but over that time Mtutu rose to be South Africa's captain, coach and talent manager. He was twice selected in the World Team after International Cups. His outgoing and friendly personality saw him become a natural ambassador for the game, he met with Archbishop Desmond Tutu in this role (pictured along with Michael O'Loughlin), and he addressed the AFL Commission in 2008 putting forward the case for support for international footy. His departure will come as a shock to many.
Perhaps strangely Mtutu was unavailable for comment, but it has been said he may continue to have a small role with the game in future. An article paying tribute to his contribution to the sport is on the AFL South Africa website: Mtutu moves on
On a personal note this author would like to thank Mtutu for his friendship and contribution to the game. And I will always remember playing a "friendly" against South Africa in which Mtutu expertly appeared to fly for a contested mark but in fact was subtly shielding me from the ball to protect his team mate. As we re-gathered ourselves I commented in rough vernacular that he'd beaten me in a nice move, and he smiled and replied that it was experience. It was at that point that it was clear to me that Mtutu was from the new generation of international footballers who didn't just take up the game recently, but really had a sense and a feel for the intricacies of the sport that you only get by actually playing it over a period of time. Best wishes for your future endeavours Mtutu.