Crows are back in town
Thursday, July 29 2010 @ 04:45 pm ACST
Contributed by: John Corrigan
Views: 1,812

After a four year hiatus the Clare Crows have returned to the Australian Rules Football League of Ireland (ARFLI) and this time they are here to stay. The Crows were founded by South Australian Andrew Sexton in 2002. The Adelaide Crows donated jumpers and footballs and the Crows joined the ARFLI. The club was dissolved in 2006 and was resurrected this year by Pat McEvoy. Pat played for the Midland Tigers last year but he wanted to play for his home town team.
So far this year the Crows have won one game and lost two in the premiership. Following a narrow defeat to the Midland Tigers the Crows beat the Midwest Magpies by 20 points. Their most recent game saw the Crows suffer a heavy defeat to the Belfast Redbacks. WorldFootyNews spoke to Pat about how the Crows season has developed so far.
WFN: How did you get involved in the club and sport?
Pat MacEvoy: Basically I had a serious leg injury in 2002 playing GAA and in the recovery process heard from friends about the Clare Crows Aussie Rules team with whom they were playing with at that time. They said it was good fun and that I should come along for a run as it wasn't as serious as GAA, and that it would be good for my leg. Subsequently I travelled to Australia and spent a season playing with Phillip Island Bulldogs in Victoria. I wasn't any good but the people at the club (still some of the soundest people I've ever met) encouraged me and because of them developed a love of the sport.
WFN: Are you happy with how the season has started?
PE: Reasonably happy. It was slow to start but interest has been building. We've lost two and won one and have organised an excellent home ground in Lisdoonvarna.
WFN: How did you go about recruitment and what are the squad numbers (both core members and floating members)?
PE: Recruitment was basically internet advertised (ARFLI website) and word of mouth. We currently have 23 registered squad members and will definitely have more in the coming weeks. WFN: How did most of your players get interested in Aussie Rules? PE: Mostly TV to be honest, that and their friends dragging them along for a training session! Everyone who tries it wants to play more. It's a new challenge and training is always ball work.
WFN: How often do you train? Where and who owns the ground?
PE: We train every Wednesday evening at the Fair Green in Ennis, a public green area, but our home games are being played at the North Clare Sports and Amenities Park in Lisdoonvarna, North Clare.
WFN: How many Australians are in the side?
PE: Currently just one Aussie in the side, Jason Jingston, from Victoria, who travels up from Kerry (quite a trek) for every game.
WFN:How have you found the standard so far?
PE: The standard is relatively good among the older players, the skills of the younger players are pretty average but they make up for it in keenness and fitness. I'd also like to point out that the potential of some of the younger players looks like it will surpass the veterans within only a year or two.
WFN: What are your aims for the rest of the season?
PE: Win the flag! What else?
Nothing wrong with being optimistic! It's always sad to see an established team drop out of a league but equally it is fantastic to see the Crows back with strong numbers and winning games. When a new club joins a league their first priority is to become established but the Crows have already done more than this and here's hoping they continue to thrive.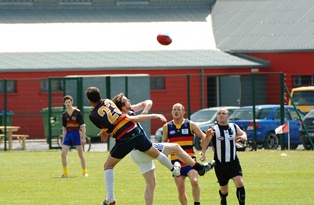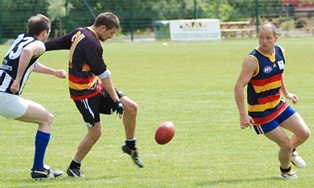 Photos of the Crows in action against Galway. Photographs by Frainc Harrington.