International Cricketers show support for South Cardiff Panthers
Sunday, July 25 2010 @ 10:58 am ACST
Contributed by: Aaron Richard
Views: 2,666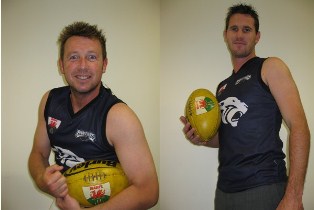 The South Cardiff Panthers are proud to announce that Welsh cricket legend Robert Croft and Australian cricket legend Shaun Tait have agreed to be club Patrons.
Robert Croft became the first Welshman to achieve the 'double' of 1,000 first-class wickets and 10,000 first-class runs and has played international cricket for both England and Wales. He made his England debut against Pakistan in 1996 and earned a touring place to Zimbabwe and New Zealand. He played the first five tests of the 1997 Ashes series and played in a total of 21 test matches.
Shaun Tait is from Adelaide and played for Australia from 2005 onwards, where he made his test debut against England at Trent Bridge. Shaun is a big Aussie Rules fan and recently came to Llanrhumney in Cardiff along with fellow South Australian Mark Cosgrove to watch the Panthers vs Chippenham Redbacks.
This report courtesy of Mark Horsman.
Robert Croft said, 'It's great to see Aussie rules being played in Wales. I'm sure that with a bit more determination it will become a popular sport here. No doubt there will be a Welsh team that will be capable of beating an Aussie team soon enough and I always like to see the Aussies get beat. Go get them South Cardiff Panthers!'
Shaun Tait said, 'It feels brilliant putting on a Guernsey again. I miss having a kick about with the footy and I love the fact that Aussie Rules has been brought to Wales. The South Cardiff Panthers look like a solid outfit and play with the spirit that the game deserves. I wish the South Cardiff Panthers all the best with the remainder of this season and I look forward to keeping an eye on their future results. Sock it to them Panthers!'
With no professional Aussie Rules in the UK and Aussie Rules being developed to keep cricketers fit during the winter, it seems fitting that we have a Welsh and an Australian cricketer happy to support our club, this can only help us take the sport forward in Wales and make us a force within AFL Britain.