Iceland from kick in the park to Euro Championships in under 12 months
Friday, July 23 2010 @ 09:33 pm ACST
Contributed by: Aaron Richard
Views: 4,188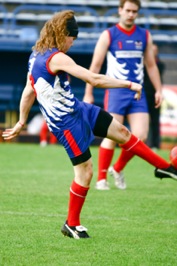 After exploding onto to the European footy scene with a strong performance at the EU Cup 09, the Iceland Ravens are preparing for their first full-field outing next weekend at the European Championships in Australian Football.
The Icelanders have been playing footy for barely a year, but have already founded a 3-team domestic league, besides now undertaking their second international tour.
The Ravens' squad will include the Iceland-native footy journeyman Pálli Finnsson, who has previously captained the Denmark Vikings, was named in the World All-Star team at the International Cup, and is currently captain of the Paris Cockerels. Pálli is also bringing a small contigent of Frenchmen to bolster the side, with Icelandic footy pioneer Friðgeir "Fritz" Ásgeirsson explaining they could have fielded an all-Icelandic team, but that would have meant a very lean squad of only around 20 players.
Regarding the core leadership group of the Ravens, Fritz says "Pálli is always a leading figure in the group and gets a lot of respect, and the same goes for his brother Jón Hrói Finnsson. Both of them have been playing the sport since around '95."
"Eyjólfur Bjarni Sigurjónsson took over as national coach from me after the EU Cup. Valdimar Gunnarsson leads by example, he's looked up to and respected by the team as he always gives 110%."
"I retain the captaincy, but I don't know for how much longer! Everyone is getting so good I'll be off the team sheet in no time."
"We have added an extra training session per week and split the group into (EC) non-participants vs participants. As the total group is around fifty players, with something like about twenty-five showing up for training, we have played 9-a-side games, but no "big" or full format games to prepare for the tournament."
"We're up against two very strong teams: Denmark and Great Britain. Finland also has years advantage in experience compared to us. We're quietly optimistic that we'll avoid the wooden spoon game, but we'll have to be realistic as we are a young team, skill and experience wise. It will be hard, but everything is possible."
The Icelandic domestic league has exceeding all expectations in its first season, going from a few guys kicking the footy in a park in Reykjavík to around 50 players spread across three teams. Fritz says "the league has grown by leaps and bounds since it kicked off. People are enthusiastic about this new sport, we get a lot of attention from the media and new players are coming to training nearly weekly. The first round is over with all three teams having played each other. We have taken a hiatus while preparing for the EC2010 and the league will resume in the middle of August."
"Since the summer season has been a great success, and everyone is demanding more games, we have decided to have a winter season as well. Since the Arctic winter is not particularly suited for outdoor sports we have found some excellent facilities to play Aussie Rules indoors."
"it's gone much quicker than I'd ever imagined. I just wanted to play some more footy and all of a sudden we have a league and people demanding to be able to buy balls and asking for more games, international tournaments and a whole lot of organizing duties!!"
| Name | Club |
| --- | --- |
| Adam Le Nevez | Strasbourg Kangaroos (France) |
| Aron Þór Þorleifsson | Gammarnir |
| Bæring Ágústsson | Drekarnir |
| Bjarki Ragnarsson | -- |
| Clement Charlet | Paris Cockerels (France) |
| Cyril Talon | Paris Cockerels (France) |
| Eyjólfur Bjarni Sigurjónsson | Griðungarnir |
| Frédéric Becquier | Toulouse Crocodiles (France) |
| Friðgeir Torfi Ásgeirsson (c) | Gammarnir |
| Greg Vajdic | Drekarnir |
| Hafsteinn Már Andersen | Gammarnir |
| Haukur Þór Lúðvíksson | Gammarnir |
| Jacques Rossard | Paris Cockerels (France) |
| Jakob Víkingur Róbertson | Gammarnir |
| Jón Hrói Finnsson | -- |
| Julien Bonnefoi | Paris Cockerels (France) |
| Kevin Taulera | Paris Cockerels (France) |
| Leifur Bjarnason | Griðungarnir |
| Magnús Þórarinsson | Gammarnir |
| Mickaël Trividic | Bordeaux Bombers (France) |
| Páll Tómas Finnsson | Paris Cockerels (France) |
| Pavel Velikov | Drekarnir |
| Tómas G. Gíslason | Griðungarnir |
| Valdimar Gunnarsson | Gammarnir |
| Viðar Kristinsson | Gammarnir |
| Viðar Valdimarsson | Drekarnir |