Vikings bringing broad mix of Youth and Experience to EC2010
Wednesday, July 21 2010 @ 07:54 pm ACST
Contributed by: Aaron Richard
Views: 3,485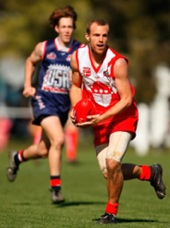 The Denmark Vikings are going into the European Championships with a squad that includes young guns such as World XVIII representative Mathias Biron alongside long-time DAFL stalwarts of the calibre of Jesper Gjørup and Kristian Stetter.
Coach Jim Campion explains that the national team is still in a rebuilding phase and focussing on younger players, however unavailabilities led the DAFL to select a more experienced side than that named for the test against Great Britain earlier this year.
Among the talented youngsters out due to injury is 18-year old Morten Merhøj, whom Campion considers more than qualified to have played in the World XVIII and 19-year old International Cup veteran Joachim Secher.
"This made way for two players and they happen to be Gjørup - who has gotten over long term injury, and Kristian Stetter - who has returned from Australia," Campion says.
"We are still in a building phase, with an emphasis on the 17 to 25 age group. But with the older more experienced players back it can only improve our chances for success."
Denmark's sole representative in the World XVIII side at the NAB Under 16 Championships, Mathias Biron was already considered a core member of the Vikings before he made the trip down under.
"Mathias had a great NAB U16 tournament and was absolutely thrilled with the experience. I have no doubt he will have a little more in his baggage when he takes the field for his country. But it's a different story when playing against mature bodies of England and hopefully Ireland," Campion says.
As one of Europe's oldest footy leagues, the DAFL has a proud tradition in international matches, their rivalry with the Great Britain Bulldogs dating back almost 20 years. This year, the Bulldogs again look set to be the biggest obstacle standing between the Vikings and a place in the final, but Campion is confident the Vikings will be able to overcome their British rivals.
"We are missing a couple of our hard running players, but still believe we will be quicker than Great Britain. Farum has a big ground, and we plan to use every centimeter. I like to think that at the end of the game there will be some frustrated British lads tired of chasing Danes from one end of the field to the other. They have some tall forwards which I believe we will struggle to contain."
"Either way, it will no doubt be an evenly contested match as always with the Brits, and a game we always enjoy."



| #&nbsp&nbsp&nbsp | Name | Club | D.O.B. |
| --- | --- | --- | --- |
| 1 | Christopher Campion | Farum Cats | February 12, 1989 |
| 2 | Peter Bjarnum | Farum Cats | February 24, 1985 |
| 3 | Nathan Campion | Farum Cats | December 28, 1991 |
| 4 | Mathias Biron | Farum Cats | June 7, 1992 |
| 5 | Jonas Holstein | Nth Copenhagen | May 3, 1975 |
| 6 | Thore Lauritzen | Farum Cats | April 15, 1989 |
| 7 | Morten Engsbye | Århus Bombers | October 20, 1986 |
| 8 | Christian Møller Larsen | Aalborg Kangaroos&nbsp&nbsp&nbsp | March 20, 1981 |
| 9 | Kasper Sallander Holm&nbsp&nbsp&nbsp | Århus Bombers | August 15, 1986 |
| 10 | Jesper Gjørup | Nth Copenhagen | October 10, 1970 |
| 11 | Bjarke Lauritzen | Farum Cats | August 17, 1985 |
| 12 | Kristian Stetter | Aalborg Kangaroos | December 12, 1976 |
| 13 | Christian Rose | Farum Cats | March 18, 1980 |
| 14 | Troels Ottesen | Farum Cats | April 10, 1985 |
| 15 | Martin Haastrup | Farum Cats | June 22, 1989 |
| 16 | Nicholai Secher | Farum Cats | February 18, 1989 |
| 17 | Morten Jensen | Farum Cats | February 1, 1979 |
| 18 | Jakob Ibsen | Nth Copenhagen | November 2, 1986 |
| 19 | Jens Djernes | Randers Dockers | February 24, 1989 |
| 20 | Jan Petersen | Randers Dockers | November 3, 1982 |
| 21 | Simon Malone | Farum Cats | March 12, 1991 |
| 22 | Jonas Nielsen | Randers Dockers | May 24, 1991 |
| 23 | Eliud Schmidt | Nth Copenhagen | May 20, 1981 |
| 24 | Janus Mortensen | Farum Cats | May 4, 1989 |
| 25 | Jakob Mortensen | Farum Cats | December 10, 1987 |
| 26 | Georg Jensen | Farum Cats | June 16, 1981 |