Manchester book spot in Central-North West GF
Friday, July 02 2010 @ 06:11 pm ACST
Contributed by: Aaron Richard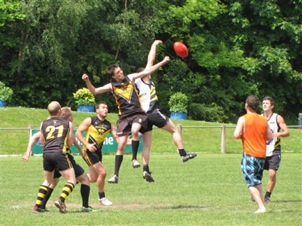 The Central and North West Region of AFL Britain is fast approaching the final rounds of its first season, with the Manchester Mosquitoes having secured their place in the Grand Final after 7 rounds.
The race is on to see who will challenge the so far undefeated Mozzies in the decider, to be held in Wolverhampton on July24th. Huddersfield and Nottingham are both locked on points and have challenging matches scheduled for the final two rounds.
After a break this weekend for the Brit Cup, the next round of the CNW Region is on the 10th July in Manchester, with Sheffield vs Wolverhampton at 1pm and Huddersfield vs Manchester at 2.30pm. The season is far from over and it will be a race to the finish.
After a hopeful starting line-up of clubs for the season, the region finished with 5 regular clubs, the Sheffield Thunder, Huddersfield Rams, Manchester Mosquitoes, Nottingham Scorpions and Wolverhampton Wolverines.
Of those that didn't make the pitch in 2010, Birmingham are hoping to re-emerge next year, alongside Hull, Oxford and Peterborough who look set to make their belated debuts in 2011.