Coupe de France kicks off in Strasbourg this weekend
Saturday, June 26 2010 @ 08:45 am ACST
Contributed by: Aaron Richard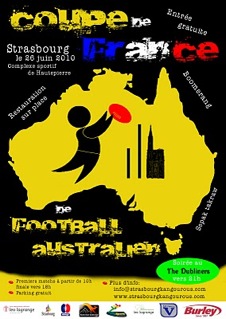 The third annual Coupe de France will kick off in Strasbourg this weekend, bringing together players from right across the country. After a season where they had to withdraw from the national league and focus on rebuilding their squad, the Strasbourg Kangaroos will be eager to show the rest of the nation's clubs that they can match it with the best.
The Paris Cockerels are hot favourites going into the tournament, hoping to add another back-to-back championship. Led by Icelandic-born footy veteran and former Denmark Vikings captain Palli Finnsson, the Parisians have been tough to defeat throughout their 2009-10 French national league, running out premiers.
The Bordeaux Bombers look likely to be the principle challengers to the Cockerels, having finished runners-up in the main season. Fred Zohar's charges are justifiably confident that they can make the final, and haven't given up on any dreams of knocking off the Cockerels for the cup.
The Toulouse Crocodiles are also banking on a strong performance, which could see them go all the way to the final. However they may be missing some of their key members for the tournament.
Rounding out the field will be a combined team from Languedoc-Roussillon, composed of players from the Montpellier Firesharks and the Perpignan Tigers. They also have the potential to surprise the field, with the French footy community noting that the Tigers were surprise finalists in last year's Coupe.
For more information, visit footballaustralien.com or the Strasbourg Kangourous' site.