South Pacific and World XVIII final squads announced
Friday, June 25 2010 @ 07:22 am ACST
Contributed by: Aaron Richard
Views: 5,058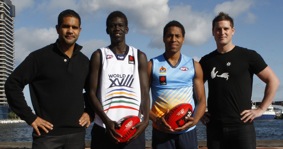 The final squads for the South Pacific and World XVIII teams at this year's AFL National under 16s Championships have been released, with representatives from PNG, New Zealand, Tonga, Fiji, Samoa, Nauru, South Africa, USA, Canada, England, Argentina, China and Denmark to take the field, along with a number of players picked from recent African, Middle Eastern and Asian migrants to Australia.
The World XVII will be coached by former Sydney Swan Michael O'Loughlin, whilst the South Pacific will be coached by NZ-born former AFL star Trent Croad, pictured at left with their respective team captains.
The event will mark the first time ever that teams drawn primarily of international players will take on the best young talent in Australia, the previous closest being PNG's appearance at the Teal Cup in the 1970s.
NATIONAL AFL U16 CHAMPIONSHIPS – TEAM LISTS
SOUTH PACIFIC
| Players | Name | | | | Nation/ |
| --- | --- | --- | --- | --- | --- |
| Number | (Name/Surname) | D.O.B. | Ht. (cm) | Wt. (kg) | Local Club |
| 1. | Ben Gela | 5.2.93 | 183 | 83 | PNG (Islands) |
| 2. | Clyde Pulah | 6.4.92 | 179 | 78 | PNG (Southern) |
| 3. | Lawrie Logo | 4.9.92 | 178 | 78 | PNG (Southern) |
| 4. | John Ikupu | 20.9.92 | 188 | 89 | PNG (Highlands) |
| 5. | Larry Nao | 27.10.93 | 177 | 75 | PNG (Southern) |
| 6. | Greg Aki | 27.9.92 | 180 | 78 | PNG (Highlands) |
| 7. | Slim Collins | 2.12.93 | 185 | 76 | PNG (Southern) |
| 8. | Wingti Pena | 14.8.92 | 169 | 80 | PNG (Southern) |
| 9. | Brodie Cleave | 27.9.94 | 181 | 86 | New Zealand (St Peters) |
| 10. | Liam Ackland | 1.8.92 | 178 | 70 | New Zealand |
| 11. | Vandyn Harman | 15.11.93 | 165 | 66 | New Zealand (Alfriston) |
| 12. | Samiuela Tuitupou | 16.7.93 | 169 | 70 | New Zealand (Papatoetoetoe) |
| 13. | Rhys Panui-Leth | 7.8.94 | 188 | 76 | New Zealand (Mahurangi) |
| 14. | Peni Mahini | 17.1.92 | 185 | 84.1 | Tonga |
| 15. | Kafoa Tuaefe | 6.4.93 | 182.5 | 77 | Tonga |
| 16. | Simote Taunga | 5.3.92 | 190 | 80.4 | Tonga |
| 17. | Taniela Kilioni | 22.2.93 | 181.5 | 80.9 | Tonga |
| 18. | Herman Tanuvasa | 30.7.93 | 170 | 74 | Samoa |
| 19. | Aviata Siuta | 10.4.93 | 179 | 80 | Samoa |
| 20. | Tomwell Raidinen | 9.1.93 | 162 | 57.9 | Nauru |
| 21. | Yoshi Harris | 20.2.94 | 182 | 86.7 | Nauru (Boe District) |
| 22. | Donatello Moses | 23.7.93 | 164 | 58 | Nauru (Aiwo District) |
| 23. | Rueben Olssen | 24.3.94 | 174 | 69.5 | Nauru (Anabar District) |
| 24. | Dylan Wolfgramm | 18.11.92 | 172 | 69 | Fiji |
| 25. | Soloman Loki | 1.12.92 | 181 | 72 | Fiji |
| 26. | Freddy Una-Felix | 8.11.92 | 182 | 85 | Solomon Islands |
| 27. | Buddy Detageowa | 19.12.93 | 177 | 61.5 | Nauru (Baitsi District) |
| 28. | Ben Fisher | 10.9.94 | 189 | 73 | New Zealand (Lynfield) |
Coach: Trent Croad / David Lake
Manager: Jim Lucy
WORLD XVIII
| Players | Name | | | | Nation/State |
| --- | --- | --- | --- | --- | --- |
| Number | (Name/Surname) | D.O.B. | Ht. (cm) | Wt. (kg) | Local Club/Origin |
| 1. | Tumi Keitumetse | 18th Dec 94 | 170 | 58 | Johannesburg, South Africa |
| 2. | Sporo Dlamini | 10th Jan 92 | 170 | 70 | Tembisa, South Africa |
| 3. | Snera Boki | 9th Dec, 91 | 172 | 73 | Cape Town, South Africa |
| 4. | Emmanuel Irra | 25th Mar, 94 | 174 | 67 | South Adelaide, SA/Uganda |
| 5. | Peter Ajang | 1st Jan, 93 | 175 | 79 | WA/Kenya |
| 6. | Mathias Biron | 7th June, 92 | 180 | 73 | Denmark |
| 7. | Prince Nematswerani | 5th Mar, 92 | 182 | 74 | Johannesburg, South Africa |
| 8. | Chris Franzen | 14th Sept, 91 | 178 | 82 | Milwaukee, USA |
| 9. | Kane Clark | 23rd Oct, 92 | 172 | 74 | NSW/Lebanon |
| 10. | John Cubahiro | 17th Feb, 95 | 180 | 75 | QLD/West Africa |
| 11. | Garang Lual | 15th Jan, 95 | 183 | 73 | South Adelaide, SA/Sudan |
| 12. | Bilal Taha | 17th Oct, 94 | 181 | 71 | NSW/Lebanon |
| 13. | Reuben Riak | 15th Nov, 92 | 180 | 74 | WA/Sudan |
| 14. | Mohammed Alebrahimi | 3rd Mar, 94 | 175 | 94 | Victoria/Iraq |
| 15. | Aliir Aliir | 5th Aug, 94 | 189 | 74 | Queensland / Sudan |
| 16. | Alex McPhee | 8th Dec, 93 | 186 | 84 | Portland, USA |
| 17. | Andrew Roosdahl | 7th Nov, 93 | 185 | 78.5 | Vancouver, Canada |
| 18. | Komang Sujaya | 6th Aug, 93 | 186 | 80 | Victoria/Indonesia |
| 19. | Jono Elliot | 27th Jul, 92 | 180 | 85 | Etobicoke, Canada |
| 20. | Clayton Lund | 24th Nov 91 | 187 | 79 | Vancouver, Canada |
| 21. | Lewis Brackstone | 19th Nov, 92 | 190 | 78 | West London, England |
| 22. | Riyad Karacic | 12th April, 92 | 191 | 71 | Etobicoke, Canada |
| 23. | Sean O'Kennedy | 9th Mar, 91 | 188 | 73 | Midwest Magpies, Ireland |
| 24. | Mella Opiew | 12th Sept, 92 | 192 | 78 | Victoria/Sudan |
| 25. | Joseph Lo Buluk | 9th Jul, 94 | 201 | 75 | WA/Sudan |
| 26. | Cristopher Daniele | 10th Dec, 92 | 174 | 70 | Buenos Aires, Argentina |
| 27. | Zhong Chenghao | 18th Mar, 91 | 188 | 76 | Shanghai, China |
| 28. | Yanga Gqodo | 13th Oct, 93 | 174 | 65 | Kayelitsha, South Africa |
| 29. | Shao Lei | 27th Jul, 90 | 182 | 70 | Shanghai, China |
| 30. | Lucas Devincenzi | 13th Mar, 91 | 184 | 94 | Buenos Aires, Argentina |
Coach: Michael O'Loughlin
Manager: Nick Hatzoglou