Iceland's Fosters Premiership kicks off this weekend
Friday, May 14 2010 @ 09:30 pm ACST
Contributed by: Aaron Richard
Views: 3,951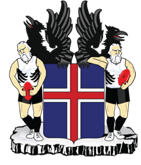 The northernmost Australian football league in the world will begin its first official season this weekend, with the Foster's Premiership kicking off in Reyjavík, Iceland. The 9-a-side features three sides, named the Bulls, Dragons and Eagles after three of the four traditional guardian spirits of Iceland.
The Bulls will go into the season as early favourites, after winning the pre-season English Pub Cup played on the 1st and 2nd of May. Icelandic Australian Football League president Friðgeir "Fritz" Ásgeirsson says the tournament was a great success, and gave a number of players the opportunity to have a competitive hitout before the season begins.
"We were very lucky with the weather and everyone had a good time. We see this tournament as a warm up for the league and a great opportunity for the new guys to try out the sport and get a hang of things. That went very well, the new guys were excellent and we are very optimistic for the future of Aussie Rules in Iceland. I'd be very surprised if we didn't see some of the new guys at the European Championships in Denmark/Sweden later this year," Fritz said.
The English Pub Cup also created some interest in the Icelandic media, with this report appearing on the national TV broadcaster RUV, and a number of articles in the local press. The Iceland Ravens made a strong debut at last year's EU Cup, and with some hard-working and passionate locals onboard look set to become a force in European footy.