Tony Woods named AFL International Development Manager
Wednesday, April 28 2010 @ 11:24 pm ACST
Contributed by: Brett Northey
Views: 8,246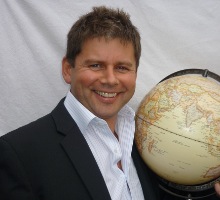 As foreshadowed recently on WFN, the AFL today announced the appointment of a full time AFL International Development Manager. Former Fitzroy, Collingwood and Hawthorn player, Tony Woods, takes on the role.
The 40 year old previously had extensive experience in his role with Austereo, as well as establishing the commercial base for the Gold Coast FC and more recently with Collingwood. From debut to retirement his AFL football career spanned 1989 to 2002.
The AFL's David Matthews stated that "This is a significant strategic appointment for the game. It is the first full-time dedicated international role at AFL Head Office".
"In recent years, with relatively modest budgets we have worked with international affiliates, AFL Clubs, Government and corporate partners to test the game's potential and identify priority international markets".
Matthews listed a series of achievements in the international growth of the game:
Some of the outcomes that have helped prove a case include :

- 53,000 international players with over 15,000 players in South Africa.

- Emerging talent outcomes in the Pacific.

- Inclusion of the World 18 and Pacific team entering the NAB U16 Championships in 2010.

- The 2008 International Cup attracting 16 teams.

- The progress of the China Project culminating in the Shanghai match in October 2010.
Tony Woods will now take the lead to "work with our current structure for the industry in identifying and developing opportunities that seek to accelerate international growth in terms of development, event and commercial outcomes". He will work with current AFL staff who have played a role in international development, such as Kevin Sheehan, Dean Warren, Josh Vanderloo, Roger Berryman and Ken Gannon.