New scholarship for South African youths
Friday, April 23 2010 @ 03:03 pm ACST
Contributed by: Troy Thompson
Views: 2,712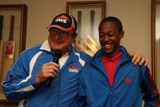 Two young South African footballers and an aspiring coach will come to Australia to hone their skills in AFL as part of the Geminder footyWILD Future Stars awards. The awards have been funded by the South African Honorary Consul in Victoria and will provide for two young players to fly to Australia to train as well as also spend time in an Australian school. A young coach will also be flown to Australia to further develop coaching tuition skills to be able to guide the very popular game in South Africa.
Mr Geminder said "These awards will provide talented young South Africans with intensive AFL training, match practice, schooling and an idea of what can be achieved if they work and study hard. It is a great opportunity for me to team with the AFL and make a real difference in South Africa; football is uniquely Australian, uniquely Melbourne. It is a perfect fit for me as Honorary Consul for South Africa in Victoria, with football very close to my heart, to support these kids, and further develop alliances between Australia and South Africa".
The first recipient of the Geminder footyWILD Future Stars awards is 15 year old Keitumetse "Tumi" Mollele from Maragon High School in Johannesburg. Mollele, a keen sportsman, only took up Australian Football in September last year but has already been identified as a future talent. He was a team member for the South African Lions which played the AIS AFL Academy side in Newlands, Cape Town this month.
He said he loved the challenge of playing Australian Football because it required him to hone his hand and feet skills as well as his footballing brain. "I am an outgoing person who loves trying anything new. I saw this game and thought it was a real challenge and I wanted to be the best at it," Mollele said.
"I hate to be second best and I want to be the best at everything I do and work hard to be better, so to go to Australia and increase my skills and come back as a better player, is a great opportunity." "I am very grateful for this opportunity. There's not much love in the world and for Mr Geminder to support me to go to Australia for AFL makes me so happy and I really appreciate it."
Mollele will represent the World team in the NAB Under 16 National Championships during his trip to Australia in June/July this year. A second scholarship for a player and a coach will also soon be announced soon as part of the Geminder footyWILD Future Stars awards. The players will stay with a host family in Australia while learning more about the game and more about Australia.
The announcement of the first Geminder footyWILD Future Stars award follows the recent listing by Team GWS of Bayanda Sobetwa, the 19-year-old from Khayelitsha township near Cape Town, who became the first South African from the footyWILD program to be recruited by an AFL club. Sobetwa will play his first match for GWS this Sunday in Ballarat.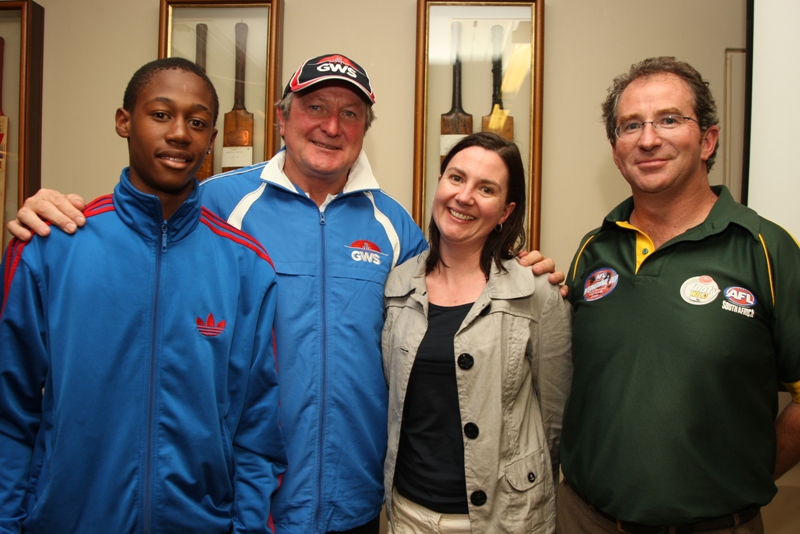 Mollele was presented with the award recently by Team GWS coach Kevin Sheedy and Ms Jen Harbottle, senior adviser to the South African Honorary Consul in Victoria, Ruffy Geminder. Also pictured is AFL South Africa's Joel Kelly.
"FootyWILD is going from strength to strength, and becoming a very successful instrument in so many local communities. I hope this opportunity will help these players develop into the respected community leaders of the future" said Mr Geminder.