Sobetwa awaits visa
Sunday, April 04 2010 @ 04:38 pm ACST
Contributed by: Brett Northey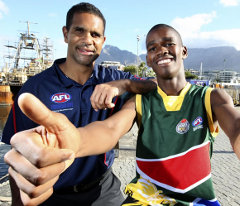 In February this year the Western Cape's Bayanda Sobetwa became the first South African to receive a scholarship to play in Australia for an extended period, with Kevin Sheedy's Team Greater Western Sydney offering him the opportunity of a lifetime. See Team GWS signs its first international player.
Team GWS has assembled their initial squad for the new (future) Western Sydney AFL club, and played its first official game on Saturday in Victoria's TAC Cup Under 18 competition. So it begged the question - where is Bayanda? worldfootynews.com spoke with AFL South Africa's Joel Kelly.
"Unfortunately there have been delays with Bayanda's visa so he hasn't left SA yet BUT that does allow him a final opportunity to represent South Africa on April 11 v AIS so he's very excited about that..."
"He will be playing with Greater Western Sydney under Alan McConnell at TAC Cup U18 level this year with hope that he progresses well enough to stay on in 2011 and beyond".
Team GWS look set for a tough year. Few of the squad are likely to make the final AFL list for 2012, with the new club guaranteed premium draft picks and pre-selections in the next two years. That may be just as well, as the club's first official hit out was a savage 94 point loss to TAC Cup side the Northern Knights, at Blacktown Olympic Park in Western Sydney. Hopefully that will mean Sobetwa gets plenty of opportunity to show his talents.