Kernow ARFL bringing footy to Cornwall
Tuesday, March 30 2010 @ 08:28 am ACDT
Contributed by: Aaron Richard
Views: 2,380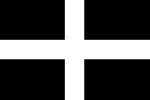 With the combined efforts of a local enthusiast and the Welsh ARFL, Britain may have its seventh regional footy competition by the end of this year, based in the region of Cornwall in England's rural south-west.
Cornwall, known in the Cornish language as Kernow, is one of the traditional six "Celtic Nations" alongside Ireland, Wales, Scotland, the Isle of Man and Brittany in France. It is an area known for tourism, with the local population of around half a million being outnumbered almost ten to one by the five million tourists who arrive from the rest of England each year, its attractions including Britain's best surfing at Newquay and Porthtowan.
Former Thanet Bombardier Liam Marsh is coordinating the project to kick off the Kernow ARFL, with an introductory session and practice match with the Cardiff Double Blues currently planned, and hopes for clubs in towns such as Falmouth, Truro, Newquay and Plymouth. Liam took some time to talk to WFN about his plans.
Liam Marsh learnt about Aussie Rules after being asked by a friend to join the Thanet Bombardiers in Kent. "At first I said that I wasn't interested, but I was roped in to watch one of their games while I had a football injury and I thought that Aussie Rules looked fantastic!"
"I joined them for their next game and the rest of the season at full back and thoroughly enjoyed it. I moved to Cornwall to go to university but travelled from there to play in all Thanet's matches for their second season."
"At the end of that season, I was selected to play for England in the EU Cup in Hamburg 2007. We finished the tournament in 3rd place. After this it was difficult for me to play Aussie Rules as I didn't have the money to travel. I've only played 6 matches in the 3 years since then, frustratingly."
Marsh says the WARFL have been a great help to getting the Cornish league off the ground. "Especially Ben Coak, he has been giving me an immense amount of advice and support, as well as keeping me up to date with what goes on at the conferences as I can't get to them myself."
He explains that the first introductory session was planned for March 6th, but unfortunately had to be re-scheduled for later in the year. "Ben was hoping to come down and help with the intro session but, unfortunately, we had problems with this. In the summer, Ben hopes to bring down the Cardiff Double Blues, I believe, to play in their weeks-off during the season against a social gathering of interested Cornishmen to get the game going down here."
"There are plans for a league, as soon as we have the players to play in it. We hope to have a league with four teams in as soon as possible."
The Kernow Australian Rules Football League can be contacted via their facebook group, as can the planned Falmouth Dockers, Truro City Pilgrims and Plymouth Seagulls clubs.