David Lake named new PNG coach
Wednesday, March 17 2010 @ 08:35 pm ACDT
Contributed by: Rod Shaw
Views: 4,776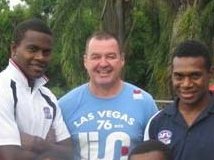 Mt Gravatt mentor David Lake is the new coach of the Papua New Guinea Mosquitoes. Lake, who has taken Mt Gravatt into the AFL Queensland finals series in each of his four years at the club, will oversee the build-up to the International Cup in Melbourne in August 2011.
"It's a great opportunity from my point of view. When you have not been to the next level (AFL) of coaching, this is a really good thing to do," Lake said.
The Mosquitoes, who won the title when the event was held two years ago, were previously coached by development guru Andrew Cadzow. However, Cadzow is now responsible for managing the development of the entire Oceania region – which includes all of the Pacific Islands, Indonesia, China and India – so he had to relinquish the coaching role.
Lake coached Papua New Guineans Peter Labi and Don Barry at Mt Gravatt last season, who went on to be international rookie listed by Carlton and Brisbane respectively. He had Labi board at his home for much of the season. "Helping Papua New Guinea and spreading our game is something I am very passionate about," said Lake, who has visited the country of several occasions in recent years. "I will give everything I can to try and make a difference."
Lake has already had two training sessions at Giffin Park with the 11 young Papua New Guineans currently residing in Queensland to play football this season. "It's like having 11 new sons – they are very open and very trusting," he said. Lake expects the 11 to form the nucleus of the team that will contest the International Cup.
His first event with the team will be a three-way tournament in Cairns in October involving a Cairns and Gold Coast All-Star sides.
A PNG side will contest the four-game AFL Cairns pre-season competition next March – as it has been doing over last and next weekend under the interim guidance of stand-in Mal Michael – before the International Cup in August.
"The schedule means I can still look after Mt Gravatt and we have more business to do there," he said, with PNG aces Amua Pirika and John James now on the books. "We've had two great PNG kids get drafted and we've got two more good ones who hopefully we can get up and be four from four."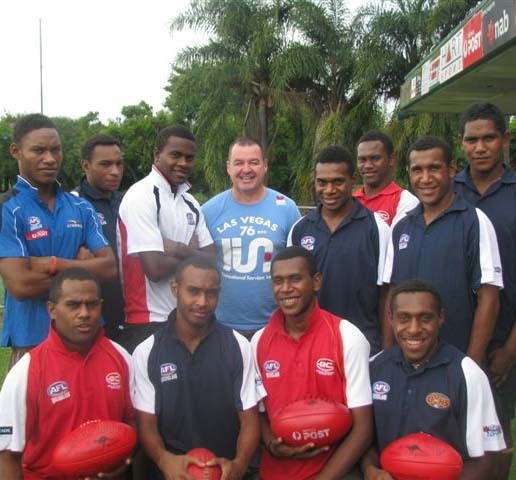 (Back, from left): Amua Pirika, Greg Aki, Emmanuel Tupia, David Lake, Freddie Peni, Johnny Vogue, Larry Nao, Naime Gordon. (front, from left): Emmaus Wartovo, John James, Slim Collins, Ogla Pena.