Boomerangs far too strong in Nyanga
Monday, February 01 2010 @ 08:18 pm ACDT
Contributed by: Brett Northey
Views: 5,552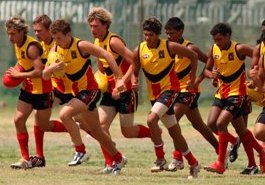 The Flying Boomerangs, an Indigenous Australian team, have proven too strong for South Africa's Coastal squad, in the second and final game of their tour, in Cape Town. An even second half followed a dominant first, in which the large Nyanga township ground allowed the Australians to use their skills to damaging effect.
Amongst the best for the locals was Bayanda Sobetwa. It was following this game that Boomerangs coach Michael O'Loughlin and AFL Commissioner Justice Linda Dessau announced an AFL SportsReady traineeship for Sobetwa which will see him join Greater Western Sydney (GWS) this year in the TAC Cup under AFL legend Kevin Sheedy.
The new field in Nyanga township, 20 minutes from Cape Town CBD, is 180m long though narrow, and it was the first time a match was played with the new goal posts in. In swirly winds the Coastal Lions struggled to find an avenue to goal in the first but kicked 5 goals to 7 in a much more even second half where they closed up the space and used the ball moving forward much better. It is also probably reasonable to guess that the tourists eased off in the second half. No doubt with the experience of their tight win in Game 1 against SA Lions Inland, the Boomerangs would have been mindful of a good start and would have begun to work well together.
Overall it appears to have been an outstanding tour - cultural experiences, one tight game and one powerful performance, and the announcement of the first South African from the AFL South Africa pathway to be invited to join an AFL club.


Game 2

Flying Boomerangs 17.10 (112)
SA Lions Coastal Squad 5.6 (36)

Best Players:

Flying Boomerangs Chris Warrell, Gary Warren, Roger Morris, Terence Curly, George Freeman
SA Lions Coastal: Sipho, Bayanda, Lungi, Deano, Sandile

Goalkickers:

Flying Boomerangs: Gary Warren 5, Nathan Kickett 3, Brandon Rigby 2, Isiah Johnson 2, Roger Morris, Lonnie Hampton, Patrick Nandy, Terence Curly, Jack Martin 1
SA Lions Coastal: Bayanda 2, Stone 1, Mandla 1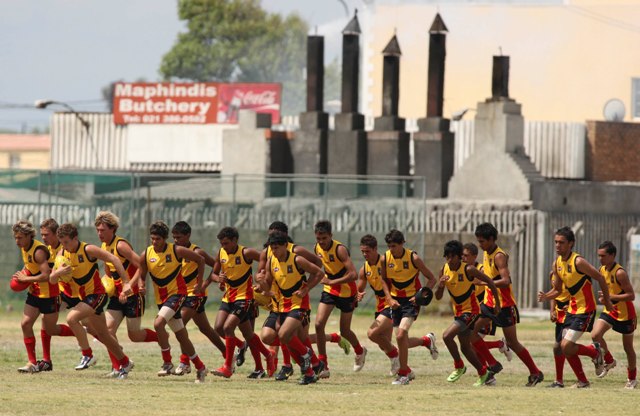 The Flying Boomerangs in Nyanga