Micky O to coach the World
Friday, February 26 2010 @ 10:30 pm ACDT
Contributed by: Brett Northey
Views: 3,437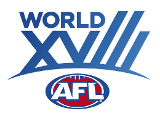 The World 18 that will head to Australia for the NAB AFL Under 16s has received a timely boost on two fronts. Recently retired Sydney Swans star Michael O'Loughlin has agreed to coach the inaugural team, having recently coached the Indigenous Boomerangs squad against South Africa. In addition, and no doubt in acknowledgement of the tough battle facing the World side, the AFL has slightly loosened the criteria for selection, in terms of age and opening the door slightly to Australian based immigrants.
Our previous stories on the World 18 indicated that the side might struggle to draw together its best possible players this year. With the split to form a Pacific Islands team it was always likely the World side would be less strong than their fellow internationals, with nations like PNG and New Zealand against them. In just the first year of this concept expectations should be low, but its still desirable they put on a solid performance - despite a knowledgeable audience sometimes the final score is what gets remembered most.
The jewel in the World crown is South Africa, but with its young players still quite raw the World 18 will need as many as a dozen young guns from other countries to have a chance to knock off their Pacific rivals. In our recent round of interviews the British, Canadians, Irish and Americans committed to trying to get their best talent to Sydney for the tournament. But AFL Japan are unlikely (small numbers and clashes with school), AFL China was elusive (so hope remains) and AFL Sweden are hopeful but suspected they won't make it. Since then Denmark have also indicated their difficulties in finding funding.
Denmark's main footy youth organiser, Jim Campion, told WFN that there would probably be no Danes making it down to Australia. "We have a very good footballer here who I'd like to send but simply can't afford it, the league or his family. We are flat out raising money for the (International) Cup every 3 years as it is and to run our comp, and European tournaments".
Jim explained that although not a tall player, he is "hard as nails, runs all day, good skills and understanding. Cannot stand to loose. Played with Geelong College for a season and impressed coaches especially with his tackling. Broke his collarbone, back played a final game with Yarrawonga U16s within 5 weeks, my home town before returning to Denmark. Played seniors here since he was 15... fourth in the league's B&F at 16/17 years".
If the World 18 are to give as good an account of themselves as the world growth of the game demands, it may need Britain, Canada, Ireland and the USA to deliver 3 or 4 top juniors each, something which may be too big an ask.
The World 18 manager and AFL official, Josh Vanderloo, has indicated there is some hope for the struggling countries, and the AFL is exploring sponsorship opportunities.
Coaching the side will be former Sydney Swans star Michael O'Loughlin, an indigenous Australian who coached the Boomerangs in South Africa. He will be assisted by Chris Johnson (ex Brisbane Lions) and Jason Mifsud from the AFL.
The selection criteria has also been adjusted to widen eligibility. The main conditions now read:
Players who are 18 years or under as of August 30, 2010 are eligible for selection
Multicultural players based in Australia are eligible for selection upon attending one of four national multicultural camps in March. Multicultural players eligible must fit the following criteria:

Resided in Australia no longer than 5 years
At least 1 parent born overseas
Must be 18 years or under at August 30, 2010
These alterations to eligibility are intended to ensure that a competitive team is entered into the championships whilst maintaining its status as representing players from around the world.
The key dates are fast approaching:

Feb 28 All nominations due from International Affiliates
March Review of nominations and trials for multicultural participants
March 31 Squad of 25 selected
June 27 Players arrive in Melbourne for training camp
July 2 Players travel to Sydney for NAB U16 Championships
July 11 Players depart for home country