The Birmingham Uni Sharks' guide to starting a Footy Club on Campus
Sunday, January 03 2010 @ 09:35 pm ACDT
Contributed by: Aaron Richard
Views: 2,160

Australian rules football may be expanding internationally at an ever increasing rate, yet in most countries where amateur clubs and leagues exist, footy is still struggling to get a foothold at university level.
At universities in the United Kingdom if a student wants there to be a new sports team, it is up to the student to create it. With this in mind, Tim Smith has penned the following article, based on his experiences founding the Birmingham University Sharks with some tips and pointers for others in the same position.
The best time to initiate the process is in May or June after the exam season. Being a new team, you will have to start by setting up an 'Aussie Rules Football' society, entitled as such. Find out your particular university's methods for doing this. Next, and most importantly, get yourself a place on your university's Sports Fair. This normally happens in Freshers week in September, and through this you are likely to get the majority of your squad. Even if you are not an official society yet, they should give you a place on the sports fair in order to help you drum up support.
Over the summer before the sports fair, create a facebook group which makes it clear what your intentions are, with a clear searchable name, eg. 'University of XXX Aussie Rules Football team'. Don't use the acronym AFL, as not many will know what that means. Invite all your university friends into it, even if you don't think they may be interested in participating – if someone sees on their facebook that a friend has joined the group, they are likely to be intrigued, have a look and may even join themselves.
Onto the Sports Fair. On your noticeboard, ensure 'Aussie Rules Football' is clear, large and bold. The timing of Sports Fairs in the UK is perfect, as the AFL season is just culminating and many will have watched bits on ESPN and be curious as to how the sport works. Have a ball on hand, and encourage people to play around with it.
Most importantly, have some sort of form where people can put their name and email address on. Even if they're just semi-interested, try to get them to put their details down! Students join university to try new things, and you'll be surprised just how many really want to play footy, which shows just how much untapped potential lies in universities around the world.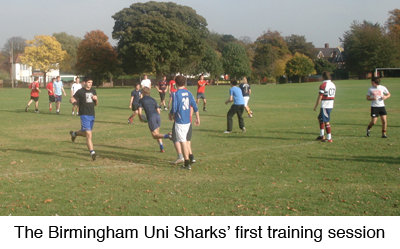 Once you have this information, send an email to all the people telling them exactly what is going on with the creation of the new society and add a link to the facebook group, encouraging them to invite any friends. When you're ready, arrange your first training session and time this so it is after all the trials for the rugby union and league teams – your potential players are likely to have been to these too! Arrange this for a time which the majority of people will be free, for instance Wednesday afternoons which are typically free from lectures and use both facebook and the email addresses to advertise it.
Have a clear plan of what training will entail, and spend a lot of time on the handball technique but also a good amount of time actually playing a game of sorts. The quality will be lacking but it is the match-training that is the most fun and will bring people back!
From my experience setting up a footy team at the University of Birmingham, you should expect approximately 1 in 4 of the people who registered their interest at the Sports Fair to attend first training – I had 98 register their interest and 25 attend first training, from which around 14 eventually became members of the society.
Other ways of publicising the team include your student newspaper. Embrace this, and get in touch with the sports editors to try and get an article in towards the beginning of term. Likewise, you can contact the sports presenters at your university radio station if you have one who may be interested in doing an interview. Furthermore, you can ask to put up posters in your university gym. With all methods, make sure your contact details are clear and try to give a date, time and location of where you'll be training so that people can just turn up and play!
Creating a university aussie rules football team can be tough and requires some leg work, but when a group of 20-odd football and rugby players gels into a tough squad of aussie footy players thanks to your hard work and determination, it is one of the most rewarding feelings in sports management. This article is to be followed in the coming weeks by an article focusing on sustaining a university footy team.
Tim Smith can be contacted via email at timsmith111@gmail.com