Elite "World 18" to join Australian Under 16 State Championships
Thursday, October 29 2009 @ 06:50 am ACDT
Contributed by: Aaron Richard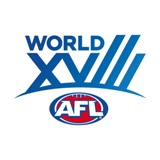 Reports have emerged that the AFL intends that next year's national Under 16s championships will for the first time feature a "World 18", with a squad of 25 players from outside Australia. The squad will compete in Division 2, with Queensland, Tasmania, the Northern Territory, and NSW/ACT.
It was reported that 15 squad members will be recruited from Papua New Guinea, New Zealand and South Africa, with the remaining ten to be picked from Europe, the US, Canada, Japan and the remainder of the Pacific.
The World 18 will be allowed to include overage players in the side, meaning the playing group will be in the age range 15-18 years. Only players having spent at least the last three years overseas will be eligible for selection.
An official announcement is expected today. For more, see the article AFL to add "World XVIII" to national under-16 championships from Melbourne's Herald Sun newspaper.