Turku Dockers take out inaugural Finnish premiership
Wednesday, September 02 2009 @ 03:58 pm ACST
Contributed by: Aaron Richard
Views: 4,421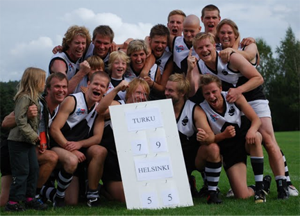 The Turku Dockers capped off a fairy-tale debut year by beating the Helsinki Heatseekers by 4 goals in the first ever grand final in the Finland AFL.
The Dockers, coached by Australian ex-pat and two-time EU Cup all star Grant Siermans, joined the Helsinki Heatseekers and the Salo Juggernauts as the third team in the Finnish league this year.
Unlike earlier years in Finland, all teams were able to field teams with primarily their own squad members throughout the home and away season, meaning that 2009 was the first year when a true premier could be crowned.
Thanks for Craig Primmer from the Finland AFL for this report, photos courtesy of Saara Hämäläinen.
Both teams knew in advance that the grand final could go either way, with the previous meeting between the 2 teams being decided after the siren in the Dockers' favour. And the game lived up to its expectations, with Helsinki leading by 4 points at quarter-time after kicking with a slight breeze, Turku by 11 points at the main break, and fighting hard against the breeze to be 10 points up going into the final term with a light breeze in their backs.
Helsinki kicked the first major in the final term however, so with just 4 points in it, it was anyone's game. However Turku's dedication on the training track appeared to be telling in the last 10 minutes of the final term, with them scoring the last 3 goals of the match to run out victors by 24 points - 11.13 (79) to 8.7 (55).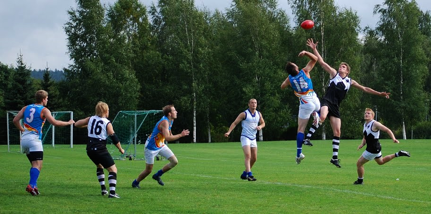 The grand final victory capped off a fairy-tale year for the Dockers, with 12 of their 14 squad members, including one woman, never having touched an Aussie rules footy prior to the first winter training sessions in a gym in March. Due to the weather conditions in Finland, the team trained outside for the first time in late April. "I'm just really proud of the dedication the guys have shown over the past 6 months" said playing coach Siermans. "They've been a pleasure to coach because they're all so inspired by the game and keen to learn more. They even ask for more sprint drills!"
In addition to the establishment of the Dockers, another big development in the Finnish league this year has been a increased influence of non-Australian players in all teams - the squads of the two grand final teams included just 2 Australians each, with the majority of players being Finns, plus a mix of Irish, Columbian, Estonian and American long-term Finland residents. The team that missed out on the grand final, the Salo Juggernauts, is made up entirely of Finns.
The influx of new local players in the league bodes well for Finland's chances at this year's EU Cup in Croatia, where the Finnish Icebreakers will be represented by an entirely non-Australian squad for the first time.