Talking Peace to feature on 10 Network in Australia
Thursday, June 25 2009 @ 12:30 am ACST
Contributed by: Troy Thompson
Views: 4,703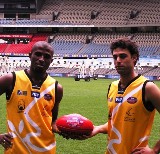 Those at the International Cup last year or following the Peace Team on their journey there may have noticed the cameras (and microphones) accompanying the team. That footage has come together in "Tackling Peace" the inspirational story of Israeli and Palestinian youths who unite over the game of Australian football. Along with the players and team staff the program also features Kevin Sheehan, Ron Barassi and Robert 'Dipper' DiPierdomenico.
The documentary narrated by Hugo Weaving premieres on Saturday 4 July 2009 on Network Ten - 1.00pm Sydney & Adelaide, 2.00pm Melbourne & Brisbane, 4.00pm Perth with replays to follow on the ONE digital channel. The film is also featuring as the Opening night Film at the 2009 AICE Australian Film Festival in Jerusalem.
The following is from the Network 10 Media Release
KEY CREDITS
Writer, Director, Producer - MARC RADOMSKY
Camera - MARC RADOMSKY
Editor - SURESH AYYAR
Original Music - TOM FOX & MARSHALL SMITH OF THE SOUNDROOM
Executive Producer for Screen Australia - MARK HAMLYN
Executive Producer for GFN Productions - CATRIONA HUGHES
Narrator – HUGO WEAVING
Screen Australia website http://www.screenaustralia.gov.au/showcases/tacklingpeace
Network Ten website http://ten.com.au/docos-tackling-peace.htm
A Screen Australia National Documentary Program produced by Dreamstone Productions in association with GFN Productions and the Documentary Australia Foundation. © 2009 Screen Australia, Dreamstone Productions.
SYNOPSES
This is the inspirational story of Israeli and Palestinian youths who unite over the game of Australian football. Tackling Peace goes behind the scenes as young men from different sides of a bloody political war set aside a lifetime of prejudice and hostility to compete as a team in the Australian Football League's International Cup. Few of the aspirant players had ever heard of the game and none imagined befriending teammates from across the political divide.
The brainchild of Sydney-based footy mum Tanya Oziel, the Peace Team is an initiative of the not-for-profit Peres Center for Peace, which works towards peace in the Middle East. The team includes 18-year-old Israeli Yonatan Belik who had never met a Palestinian before he started training with the side. His prejudices challenged and his endurance tested, he will forge friendships with his Arab teammates before returning to Israel for compulsory military service. His close mate on the team is 16-year-old Leith Jaber who comes from a highly politicised Palestinian family. Then there's Naser Gous, a former Palestinian resistance fighter who spent three years in an Israeli jail after an attack on Israeli soldiers. While he believes peace is possible, Naser knows any collaboration with Israel can be seen as a betrayal and Palestinian players may be risking their lives.
Getting to the International Cup is a logistical nightmare. It can take hours for Palestinian players to cross checkpoints into Israel, the training ground does not have AFL goal posts, players have never seen the game played, they speak different languages – Hebrew, Arabic and English – and have complicated Kosher or Halal food requirements. Narrated by Hugo Weaving and featuring legendary footballers Kevin Sheehan, Ron Barassi andRobert 'Dipper' DiPierdomenico, Tackling Peace follows this group of Israelis and Palestinians in their quest to make it to Australia and play together against the world.
Background to the Peace Team
For Tanya Oziel, the Peace Team's trip to Australia in August 2008 was not so much the end, as the beginning of a dream. A passionate supporter of the AFL, Oziel has long harboured an ambition to see Australian football established as the sport of peace in the war-torn Middle East. "This is about more than a peace team, it's about the next generation. It's about taking our great sport to the region and bringing the two sides together through footy," says the Sydney-based director of the independent not-for-profit Peres Center for Peace. The Peres Center brings Israelis and Palestinians face to face through grassroots sport, agriculture, medicine and social programs.
Oziel's dream was born after she watched the transformation of her son, Haim, who found happiness of his own after joining an AFL team. "He was a Jewish boy in a very Jewish environment and he didn't fit into any soccer or basketball team; other codes can be very territorial," she says. "His whole world opened up when he joined the Maroubra Saints. He was the first Jewish boy that anyone in the club had ever met and now they're all his best mates. He was really the inspiration behind my passion in seeing how children can transform through playing AFL."
In early 2007, Oziel met with James Demetriou, who had visited Israel's Peres Center as part of his work with Australia's Sports Without Borders, which assists refugee and immigrant children to integrate through sport. Demetriou suggested she contact the AFL, which is headed by his brother, Andrew. Several months and much hard work later, Oziel had secured the patronage of philanthropist and football fan the late Richard Pratt and the support of the AFL for a visit to Australia by a Peace Team, modelled on a professional team of Israeli and Palestinian soccer players, who play tournaments around the world. In January 2008, more than 100 Israelis and Palestinians gathered on a field near Tel Aviv to try out for the team. Most had never seen the game or even come face to face with the enemy. Some risked their lives to participate, it took hours for the Palestinians to get to training and there were no goal posts on the field.
But under the guidance of former AFL star Robert 'Dipper' DiPierdomenico, the team embarked on a journey that would change their lives forever. "Before December 2007, no one believed in it," Oziel says. "Everyone thought it was a wonderful idea but no one thought we were going to be able to do it. No one played the sport, there was no team, there was a huge funding challenge, everyone just thought it was too big and too short a time."
In August 2008, Oziel proved the doubters wrong and the Peace Team took the spot in the international line-up in Australia. "Nothing is insurmountable. It was challenging, it was hard work, it was relentless, but it wasn't impossible. In the end it was so phenomenal that I felt it had a divine energy because everything just fitted into place beautifully."
Introduction story
Tackling Peace is far from the easiest job that Marc Radomsky has ever taken on. For one, he was arrested while crossing at a checkpoint between Israel and Palestine. He was detained by Israeli armed forces and forced to erase footage that he had shot during the crossing. "I had permission and clearance to cross these checkpoints to go into the West Bank but actual filming at the checkpoint is more of a tricky situation and I didn't have official permission," Radomsky say s.
"I wasn't filming anything secret or terrible. I was just doing what a filmmaker does; you push the envelope a little bit and film until you're told to stop filming. "It's a war situation. I did get arrested, I was interrogated and I did have to erase footage I shot at the checkpoint." Then there was the challenge of winning the trust of the Israeli and Palestinian teammates, and those who brought them together, so he could capture their story, warts and all. But at times, situations arose that th e organisers tried to keep him away from. "In this environment there are bound to be misunderstandings and conflicts that arise – but it'sabout how those conflicts are resolved that gives the real picture of what's going on. I tried to get people to understand that if I didn't film the conflicts as they occurred, then portraying only the resolutions would have no credibility," he says of his intimate, observational style.
It was par for the course for the South African-born filmmaker, who worked for years in the anti-apartheid movement and appreciates the power of film and television when used in conflict situations. It was through this understanding that Radomsky became aware of the work of the Israel-based Peres Center for Peace, an independent not-for-profit organisation that runs cross-border initiatives in fields such as medicine, agriculture and sport. "The vision of the Peres Center is to proactively try and avoid a similar tragedy to what happened in South Africa – where the end of Apartheid came but the people who had fought so hard for it had no experience of the freedom that brought, and so the country was not ready for the challenges freedom demands – and things quickly become anarchic" Radomsky says. "The Peres Center is about building the infrastructures of dialogue now, so people are ready if and when a peace agreement arrives."
Radomsky began filming the documentary in January 2008 during a self-financed trip to Israel to attend the team try-outs. With the assistance of executive producer Catriona Hughes, he eventually secured finance from Screen Australia and a sale to Network Ten. It was to be the first of five trips to the Middle East over 12 months, including a final visit early in 2009 to film an epilogue, following the latest Gaza war between December 2008 and January 2009. While Radomsky typically works in the "socio-political, cultural, character-driven" field, he had never previously used sport as a device. But he recognised a great story. "Take this odd game, a unique mix of Rugby, Soccer and Basketball, invented and played here at the edge of the universe, and chuck it into the middle of the Middle East conflict. It seems ridiculous to even try, but this game presented an even playing field because everyone came in on an equal level," he says. "This is not a sport film, it's a classic story of characters under pressure. They have to overcome huge obstacles. The way I work is to find the characters I need to tell my story and to spend a lot of time with them, gaining their trust and relating to them as a kind of two-headed director and camera operator – it's a very intimate way of working."
Often he was treated with suspicion. "It was a constant struggle of 'I need to get more, I need to get more access'. The Israeli team captain wouldn't speak to me in Israel at all. He didn't talk to me until we got to Australia. I had to be there 24-7 and be ready to film at all times, just be there and become part of the furniture, so it was a very intensive filming process that never ended for the doco team," he says. As writer, producer and director, Radomsky shot much of the film himself as part of a two or three-man crew, before cutting 160 hours of footage into an hour-long film. He hopes Tackling Peace will help people to see the shades of grey in a complex social and political environment.
"There was amazingly complicated stuff going on that the news doesn't portray and the world doesn't see. It's easy to look at it and see it as a very black and white situation, but there's no black and white, there's only vast shades of grey," he says. "I hope people engage with the journey of the characters and get a sense of the complexity; I want them to start understanding the pathos and the pain. The great sway of people really want peace and when you get them together in a meaningful way, so they can see their common humanity they really do get on. Worlds were rocked in this film. People's entire perspectives and lives changed. "Hopefully people will realise that you should and can celebrate diversity. There's value in understanding the difference, appreciating the difference and learning from the difference." The team song, sung to tune of Hawthorn's anthem: We're the footy team for peace We glide the oval with ease, With passion and strength we are free To unite to Victory!
Filmmaker Biographies
Marc Radomsky
Award-winning producer and director Marc Radomsky has 15 years experience in international television and has made more than 150 programs for local and international broadcasters and the development sector. In South Africa, Marc co-founded and was director of Free Film Makers/Gasworks post-production, associate producers of the Oscar-nominated biography of Nelson Mandela. In Australia, Marc has produced and directed programs for Channel Ten, the ABC, SBS, ABC Asia Pacific and Foxtel. His credits include the award-winning South African films Mujaji, Ghetto Flowers and The Communites. In 2003 he won the best documentary award at the Kalamata International Film Festival for Choosing Exile, a documentary that explored his personal journey, leaving South Africa to migrate to Australia. Other credits include Claiming the Memory about a group of Australian Jewish Students to Poland on the March of the Living for the first time; An Australian Idol in Africa, which profiled the plight of the child soldiers in war torn Northern Uganda through the journey of Idol winner Guy Sebastian; and television series Saving Babies, Saving Kids and The Ultimate Donation and The Nest. Tackling Peace will open the 2009 AICE Australian Film Festival in Jerusalem.
Catriona Hughes
After an extensive career in film administration, including 15 years with the Australian Film Finance Corporation, five as its chief executive officer, Catriona Hughes has moved into film production. Through her production company GFN Productions, Catriona produced the Australian feature film Kokoda, directed by Alister Grierson, in 2005, and was executive producer of How to Change in Nine Weeks, directed by Simone North, in 2007. She is the executive producer on Tackling Peace.
Links
Screen Australia Tackling Peace website - http://www.screenaustralia.gov.au/showcases/tacklingpeace
Network Ten Tackling Peace website - http://ten.com.au/docos-tackling-peace.htm
The Peres Center for Peace - http://www.peres-center.org/
Al Quds Association for Democracy and Dialogue - http://www.afdd-pal.org/