Liverpool Eagles almost ready to Fly
Thursday, April 30 2009 @ 08:40 am ACST
Contributed by: Aaron Richard
Views: 1,808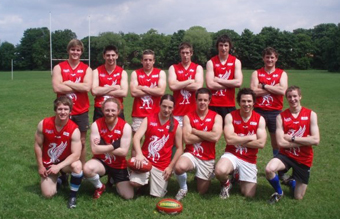 Among the crop of new clubs on the English Aussie Rules scene this year are the Liverpool Eagles, a side hoping to bring footy to the Merseyside.
Although the Eagles actually already played their first game late last year, a friendly against the Manchester Mosquitoes, the nature of a mainly student-based club means they are back to recruiting a fresh squad for 2009.
World Footy News spoke with Eagles organiser Chris Thompson about the challenges associated with getting the club off the ground.
Thompson tells us the club got its start with Steve Cardwell, a rugby union player and student from Liverpool University, who got in contact with Aussie Rules UK. "We got sent some balls to have a kick around and from here we gathered more players and interest. Steve, a language student, is currently away on his year out in Spain and so I am taking the reins till his return."
"Last year the well-established Manchester Mosquitoes helped us consolidate by inviting us over for a friendly. We took the challenge and came out strong, but the experience and training came through and the win slipped away. However it was a great day and all the boys enjoyed themselves."
"The problem with pre-season games is, as a new club and student-based club we struggle with massive drop-off and so go back to recruiting players at the beginning of each season. We really struggle with numbers and rely heavily on student participation."
Thompson explains that the fledgling team has found it hard to find a field for regular training sessions, making it difficult to keep players motivated. "We have a few keen players including a few Aussies, however turning players' interest into participation at training has been minimal."
"I contacted the Liverpool Echo who seemed interested in putting an article together, but without players at training there it was not worth getting the photographer down, they just weren't interested. We also have generated flyers and posters and contacted all the local rugby clubs but we have had little to no response."
"In the pre-season period all the clubs were invited down to ARUK headquarters in London where we got to discuss the issues and progression of the league, but mainly got to meet the various club reps. We have a lot of contact with the local clubs, especially Manchester and Huddersfield."
The Liverpudlians are currently setting up a sister-club relationship with the West Coast Eagles, in order to better advertise the team to any Australians who might be headed for the city. However, their jumper might have more to do with the all-red strip of another football team in Liverpool, together with the Liver bird - the emblem of the city. This, says Thompson, is "Liverpool through and through."