Awesome Aussie youth win one-sided contest
Wednesday, April 22 2009 @ 01:30 am ACST
Contributed by: Brett Northey
Views: 3,814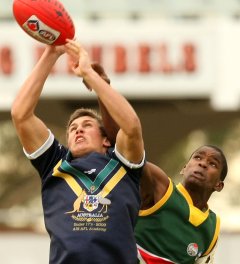 Unfortunately for international footy fans there were no real surprises in Paarl, Cape Town on Monday as the South African Lions received a football lesson from the elite Australian youth side. The final margin was a crushing 132 points, and will no doubt raise some questions about the benefit to the African program.
The case remains that there are pros and cons. Without the contest then the relevance of the tour to the AIS program would have to be in question, and that could have ramifications both in South Africa and Australia. On the downside the defeat must be disheartening to the Lions, especially since they were fielding an open age side. A positive for younger talent is that it shows them what level is required, and of course the associated assistance and exposure that comes with the tour. At the end of the day it probably depends on how the expectations of all involved are managed before the match.
Kicking goals for the Lions were Jawe, Motubu, Malinga - all three were proven performers at the 2008 International Cup. It was encouraging to see some of the younger talent from IC08 making the best players, such as Prinsloo, Sifanelo and Boki, as well as a new name in Xmasa. At time of writing we're unsure of what preparation the South Africans had coming into this game, so perhaps a lack of match practice was an issue. At the end of the day, the margin was not unexpected, with many of the elite Australian squad likely to be drafted at year's end, and the next wave of South African players only just beginning to emerge.
The following is a match report and a spectacular photo courtesy of the AFL.
At picturesque Boland Park, Paarl (just north of Cape Town, South Africa) the Australian U17 side defeated the South African lions whilst on tour as a part of the AFL/AIS Academy program.
Although a one sided match, spectators were impressed by the skill level and tenacity shown by both sides. Symptomatic of this was the 3 goals scored by the South African side in the last quarter which showed their determination and an impressive ability to run out a match. With over 17,000 participants across the country playing the game, the future for South African football is bright.
The Australian side, which has been in South Africa for the past 8 days spreading the word of footyWILD (the South African version of Auskick) played an attacking brand of football exhibiting some of the lessons learnt from the game against Williamstown on Saturday 12th April. All players played their role in the win with Victoria's Jordan Gysberts being awarded the man of the match at the post game function.
The two teams enjoyed each others company post match at a dinner put on by AFL South Africa where players from both teams presented each other with mementos of the game.
The AFL/AIS Academy squad is in Cape Town for the rest of the week before travelling to Perth to take on Peel Thunder as a curtain raiser to the Fremantle v Sydney match on Saturday 25th April at Subiaco oval.

Australia (AIS Youth) 23.14 (152)
South Africa (Open) 3.2 (20)

Best Players
Aus: Gysberts, Atley, Swallow, Lycett, Mott, May
SA: Prinsloo, Sifanelo, Boki, Xmasa, Motubu, Mitchell

Goals
Aus: Mott, Stevens 4, Duncan 3, Stubbs, Atley, Hartigan 2, Crichton, Lycett, Nicholls, Gysberts, May, McDee 1
SA: Jawe, Motubu, Malinga