Paris Cockerels warm up for season against North London and the Flying Dutchmen
Thursday, April 16 2009 @ 08:31 am ACST
Contributed by: Olivier Tresca
Views: 2,945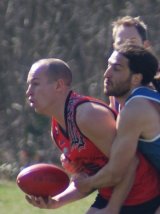 Prior to their first game in this year's French league, the Paris Cockerels played two friendly matches, with an 18-a-side match against the North London Lions in Paris, and the second one against the Flying Dutchmen in Amsterdam.

Although the Cockerels went down in both matches, they put in some good performances, even leading the traditionally strong North London side with ten minutes to go in their match. Here is a brief report of those games.
On the 21st of March, the Cockerels organised an 18-a-side game of footy against the North London Lions, possibly the first 18-a-side game on French soil since the first world war.
The Parisian team surprised the Englishmen by showing some great skills, which lead to a tight score all along the game. The Cockerels were even a couple of points ahead with 10 minutes to go, but couldn't wrap the game up. The more experienced Lions scored 4 goals in a few minutes which eventually gave them a 24 point win.

Full scores:
1st quarter: Cockerels 1.1 (07) Lions 1.4 (10)
2nd quarter: Cockerels 3.2 (20) Lions 3.11 (29)
3rd quarter: Cockerels 5.5 (35) Lions 4.16 (40)
4th quarter: Cockerels 6.6 (42) Lions 8.18 (66)


On the 4th of April, the Cockerels travelled to Amsterdam for a return game against the Flying Dutchmen.

The Frenchmen totally missed the first half of the game, being unable to tackle or shepperd properly, and couldn't make good use of their few shots at goals. They eventually scored 1 goal in two quarters while Dutch scored 11.

"The self-imposed 6am curfew on the day of the game surely didn't helped us" says Cockerels coach Graham Andrews.

After an inspiring half time speech, the Parisians woke up and showed some excellent passages of play coming from the backline down the sideline, creating opportunities for the forwards, while the defence got stronger.

Here's the scores:
1st quarter: Cockerels 0.3 ( 3) Lions 7.5 (45)
2nd quarter: Cockerels 1.5 (11) Lions 11.9 (75)
3rd quarter: Cockerels 3.7 (25) Lions 14.14 (98)
4th quarter: Cockerels 8.9 (57) Lions 15.16 (106)