Crikey! It's the Bali Geckoes and Timor-Leste Crocs as curtain raiser to AFL match in Darwin
Sunday, April 12 2009 @ 06:58 pm ACST
Contributed by: Aaron Richard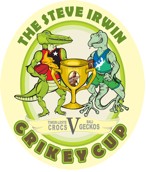 There are Australian Rules Football Clubs throughout Asia and the newest of these clubs is the Timor-Leste Crocs. In Darwin on June 13th this year, the Crocs will go up against Asian footy veterans the Bali Geckos for the first time in the inaugural 'Crikey Cup', as a curtain-raiser to the AFL Round 12 match between the Western Bulldogs and Port Adelaide at TIO Stadium.
The idea for the Crikey Cup came from Steve Irwin's connection with East Timor and its sacred symbol, the crocodile or 'grandfather'. In 2000 Steve Irwin led a team from Australia Zoo, with the Australian Defence Force and the World Society for the Protection of Animals, to rescue two injured crocodiles from a cramped and destroyed cage in Dili, the capital.
Determined to respect the crocodile's symbolic status in East Timor, Steve refused to evacuate the reptiles to secure facilities in Australia. Instead, Australia Zoo funded and built two state-of-the-art enclosures outside of Dili. At the time, Steve described the rescue as one of the hardest but most rewarding of his life. Whilst in Dili the Irwins also donated funds for medical treatment of the people caught up in the violence of that time.
Former Australian Army soldier Luke Gosling co-founded the Timor-Leste Crocs Football Club:
"We thought it appropriate, as Timor-Leste moves forward, to continue the link to the conservation ethos that Steve Irwin represented, and ultimately his passion for environmental sustainability. We are honored to be able to take part in this footy game that also celebrates our regional friendships. What better place to do that than in Darwin, the regional home of great AFL and Australia's gateway with Asia."
Bali Geckos Club President Mark Parthezius said, "Ultimately we are hoping this will become an annual event where teams from Australia and Asia can take part in a tournament to honour the legacy of the Crocodile Hunter and Eco-Warrior."
Mr Parthezius added, "We are going to take down those Timor Crocs the same way Steve did, with 100% commitment, in the spirit of our friendships - and the game."
The historic match is supported by Terri Irwin, and their renowned wildlife park Australia Zoo in Beerwah, Queensland. The match is also one of two curtain-raisers to the Western Bulldogs v Port Adelaide night match, and is backed by the NTAFL.
The Steve Irwin 'Crikey Cup' - June 13, Marrara TIO Stadium Oval 2
First bounce: Approx 3.30pm (watch for further details closer to the Game Day)
Followed by Territory Thunder (NT) V Broadbeach (QLD), and Toyota AFL Round 12 Western Bulldogs v Port Adelaide at TIO.
For more information please contact: Luke Gosling - 0400232719 - lukejgosling@gmail.com
Comments (0)
---
World Footy News
http://www.worldfootynews.com/article.php/20090412192829643